Hotel Housekeeping Resume Sample
Below is a resume sample for hotel housekeeping. This job is all about providing excellent quality and service for all guests. Housekeepers are the unsung true heroes and heroines of the hotel industry, because no matter how nice the building is, the front desk service is, or how large the continental buffet may be, at the end of the day it's the quality of the rooms and the sleep that guests get that leaves the greatest impression. 
A senior level housekeeper may also take on managerial functions, training and overseeing teams of housekeepers, if so, include these managerial experiences on your resume if you wish to advance further.
This resume example for hotel housekeeping was written by professional resume experts, thus if you follow it's formatting and style when writing your own resume you should end up with an equally professional product. If you have any questions while you're writing, ask them in the comments below and one of our senior level resume experts will answer them for you!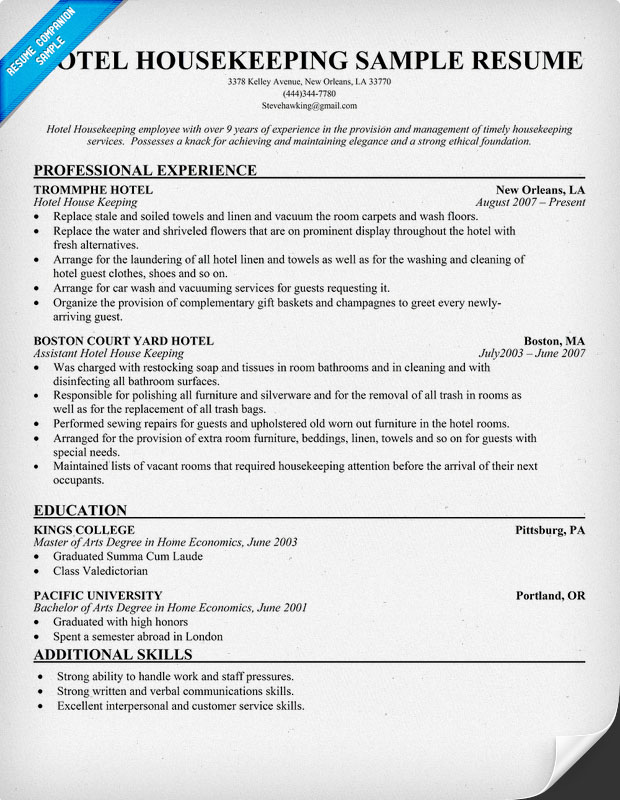 Standing out from the competition in the hotel housekeeping industry can be difficult, as the labor supply is always seemingly more than enough to meet demand. Still, there are a few things you can do to make your housekeeping resume stand out as the one above has done. Some of the particularly strong points of this resume include:
The applicant's resume is strong because it includes the most recent hotel experience at the top of the resume in correct reverse chronological order. 
The applicant included some unique experiences that will help them stand out amongst the competition such as study abroad experience in London.
The applicant made full use of the page and filled it with relevant housekeeping skills, eliminating white space and making their expertise appear broad.
A few things the applicant could do to strengthen his or her resume might include a few of the following:
Include the number of rooms maintained or cleaned on a regular basis to provide scope to his or her responsibilities. 
The applicant could include a customized cover letter written specifically for the hotel chain or home to which they are applying.
The applicant could include more focus on their most recent experience at the Trommphe Hotel and reduce focus on their older experience at Boston Court Yard to make the resume more current and targeted. 
HOTEL HOUSEKEEPING RESUME TEMPLATE
3378 Kelley Avenue, New Orleans, LA 33770
(444) 344-7780
Stevehawking@gmail.com
Hotel Housekeeping employee with over 6 years of experience in the provision and management of timely housekeeping services. Possesses a knack for achieving and maintaining elegance and a strong ethical foundation.
PROFESSIONAL EXPERIENCE
TROMMPHE HOTEL New Orleans, LA
Hotel House Keeping August 2007 – Present
Replace stale and soiled towels and linen and vacuum the room carpets and wash floors.
Replace the water and shriveled flowers that are on prominent display throughout the hotel with fresh alternatives.
Arrange for the laundering of all hotel linen and towels as well as for the washing and cleaning of hotel guest clothes, shoes and so on.
Arrange for car wash and vacuuming services for guests requesting it.
Organize the provision of complementary gift baskets and champagnes to greet every newly-arriving guest.
EDUCATION
KINGS COLLEGE Pittsburg, PA
Master of Arts Degree in Home Economics, June 2003
Graduated Summa Cum Laude
Class Valedictorian
PACIFIC UNIVERSITY Portland, OR
Bachelor of Arts Degree in Home Economics, June 2001
Graduated with high honors
Spent a semester abroad in London
ADDITIONAL SKILLS
Strong ability to handle work and staff pressures.
Strong written and verbal communications skills.
Excellent interpersonal and customer service skills.
---
Here's another example of a housekeeper resume. Hopefully, between these two resumes, you'll get a firm idea of how to write your resume.
A housekeeper runs the errands for a hotel or guesthouse. They maintain a perfect appearance for guests and so their resume should also be presented in the same fashion. Take a look below to learn more.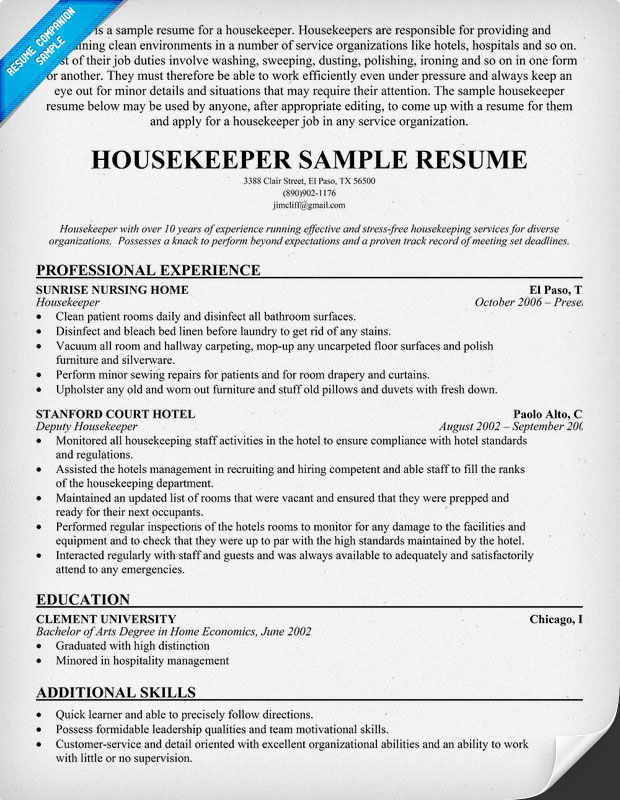 comments powered by

Disqus