Make Up Artist Resume Sample
A Make-Up Artist is someone who applies make up to a client. They usually work with those in the celebrity world such as actors and singers. They must build their reputation through word of mouth or with a portfolio. Those who don't work in the celebrity world can often be found working in salons and spas. Some Make-Up Artists do tend to go work for make-up companies and create their own line of products. The salary of the position can vary because the Make-Up Artist's job is considered more along the lines of freelancing.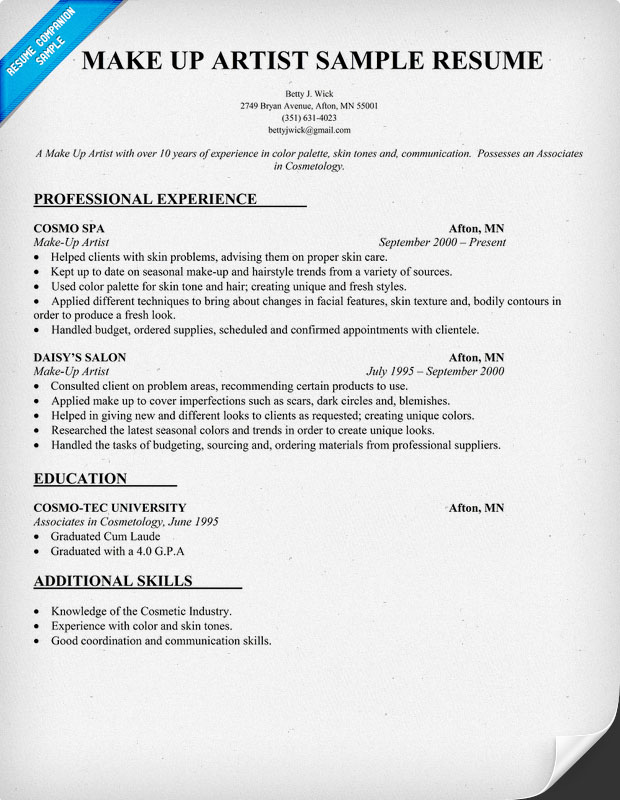 About this resume:
It's great to see that Betty is pro-active with such terminology as "Kept up to date on seasonal make-up" and "advising on proper skin care"
We'd love to see her expand on the size of the budget and costs saved in addition to the amount of suppliers
Betty could talk about the amount of clients and the types of make-up she handles including brands
Here are the top 5 skills that employers are looking for. It may help you when writing your resume.
MAKE UP ARTIST RESUME TEMPLATE
Betty J. Wick
2749 Bryan Avenue, Afton, MN 55001
(351) 631-4023
bettyjwick@gmail.com
A Make Up Artist with over 10 years of experience in color palette, skin tones and, communication. Possesses an Associates in Cosmetology.
PROFESSIONAL EXPERIENCE
COSMO SPA Afton, MN
Make-Up Artist September 2000 – Present
Helped clients with skin problems, advising them on proper skin care.
Kept up to date on seasonal make-up and hairstyle trends from a variety of sources.
Used color palette for skin tone and hair; creating unique and fresh styles.
Handled budget, ordered supplies, scheduled and confirmed appointments with clientele.
DAISY'S SALON Afton, MN
Make-Up Artist July 1995 – September 2000
Consulted client on problem areas, recommending certain products to use.
Applied make up to cover imperfections such as scars, dark circles and, blemishes.
Helped in giving new and different looks to clients as requested; creating unique colors.
Researched the latest seasonal colors and trends in order to create unique looks.
Handled the tasks of budgeting, sourcing and, ordering materials from professional suppliers.
EDUCATION
COSMO-TEC UNIVERSITY Afton, MN
Associates in Cosmetology, June 1995
Graduated Cum Laude
Graduated with a 4.0 G.P.A
ADDITIONAL SKILLS
Knowledge of the Cosmetic Industry.
Experience with color and skin tones.
Good coordination and communication skills.
comments powered by

Disqus