Management and HR Consultant Resume Sample
I. HR and Management Consultant Resume
II. HR Professional Consultant
HR and Management Consultant Resume
A hiring manager viewing this type of resume should reveal work within a particular department such as human resources to offer new strategies on a variety of work-based problems. This management and HR consultant resume sample showcases the candidate to mediate and also offer some resolutions to disputes. Rewrite this management consultant sample resume to showcase you analytical, leadership and research skills. Be sure to cross-reference our HR administration example page for more relevant information. 
Review of the resume:
The career objective is strong. It includes experience, specialization, adhering to regulations, a degree certificate and key licenses that allow this candidate to stand out from the crowd ... in two sentences!
We like that this person shows they support other companies. This can be improved by mentioning the amount of managers and any revenue increase due to their help
It's great that this HR Management Consultant can handle disputes as it's a strong part of the job
MANAGEMENT AND HR CONSULTANT TEMPLATE RESUME
7008 Cotton Mount
Santa, Iowa, 51728-4080
(319) 374-3112
lizzy.cralow@gmail.com
HR Management Consultant with over 7 years of experience as an advisor, providing consultation to employees on employment related issues in addition to complying with and implementing new laws and regulations. Possesses a B.A. in Media Studies and an MBA with LEAN, Six Sigma and SPHR.
PROFESSIONAL EXPERIENCE
KUJI AVALANCHE Boston, MA
HR Management Consultant September 1998 – Present
Analyze organizational or client centered HR problems and recommends solutions based on expertise, knowledge and/or experience.
Provide operational and consultative support to business managers on a daily basis.
Serve as initial point of contact for all clients and determines if resolution can be found on initial call or if Tier II resolution is required
Make recommendations to management on how to improve employee morale, performance and loyalty, resulting in improved employee survey results and retention of key talent
SALEM NIGHTS Boston, MA
HR Management Consultant September 1998 – Present
Interface with employees and managers to resolve employment issues
Mediate disputes among employees in order to bring these to expedient resolution
Provide support to application users which includes instruction, navigation, troubleshooting, maintenance and evaluations to determine solutions and alternatives
Develop and maintain effective verbal and written communication with all parties
EDUCATION
COWELL UNIVERSITY Chicago, IL
MBA, June 2001
Graduated Summa Cum Laude
COWELL UNIVERSITY Chicago, IL
Bachelor of Arts in Media Studies Candidate, June 1998
Graduated Magna Cum Laude
West Bank Scholarship
FURTHER TRAINING
Professional HR Designations
LEAN, Six Sigma Training
SPHR Certification
ADDITIONAL SKILLS
Knowledge of employment laws
HR Professional Consultant Resume
The HR Professional Consultant is the middle person that both companies and individuals in search of filling a job post come to. The position may involve trying to hit recruitment targets and working within deadlines to match candidates to positions. Use this HR professional consultant sample resume to showcase your project management skills and adherence to supreme organization.
Review of the resume:
John developed models that shows he can collaborate in a team and he also supported clients that shows he has a broad knowledge of what needs to be done to fix the problem
We love how he quantified the size of his team. We would go even further and explain what the "corrective action" outcome was - costs saved, revenue increased, customers gained, conversion increased.
The additional skills section stand out too as the knowledge John reveals helps his qualifications stand out from his peers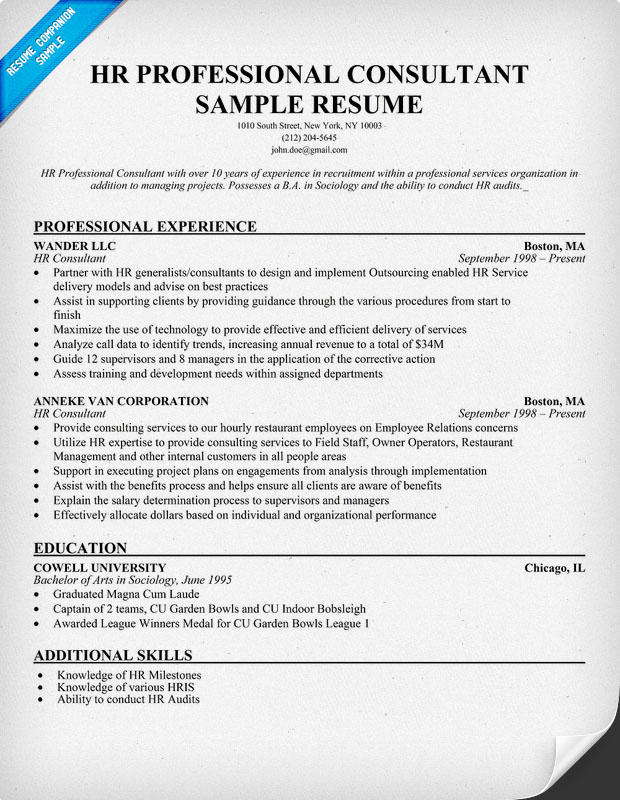 Management Consultant Resume
A Management Consultant advises other managers, executives and directors on how best to optimize a company for profitability. Whether it is a layperson or a partner in a law firm, consultants inform others of the best way to move to the next level. Take your information technology savvy to the next level with a Masters of Business Administration; advise teams on the best ways to create a productive environment; be a creative monster and a priceless asset to your employer. 
By now, you should have a good understanding of how to write your resume Consultant resume. Good luck with your job hunting. If you want more useful job and career tips check out the Resume Companion Blog.
comments powered by

Disqus