Media Broadcasting Resume Sample
Choose the resume that suits you best.
Radio Broadcasting Music Director Resume
Radio Promotion Director Resume
Media Broadcasting Resume
Media broadcasting spans an array of media from radio to television and is a role which offers listeners and watchers factual information and entertainment. Change this example for a media broadcaster sample resume to emphasize your credentials in a particular media outlet and be sure to focus on your language knowledge as well as any key productions you have broadcast.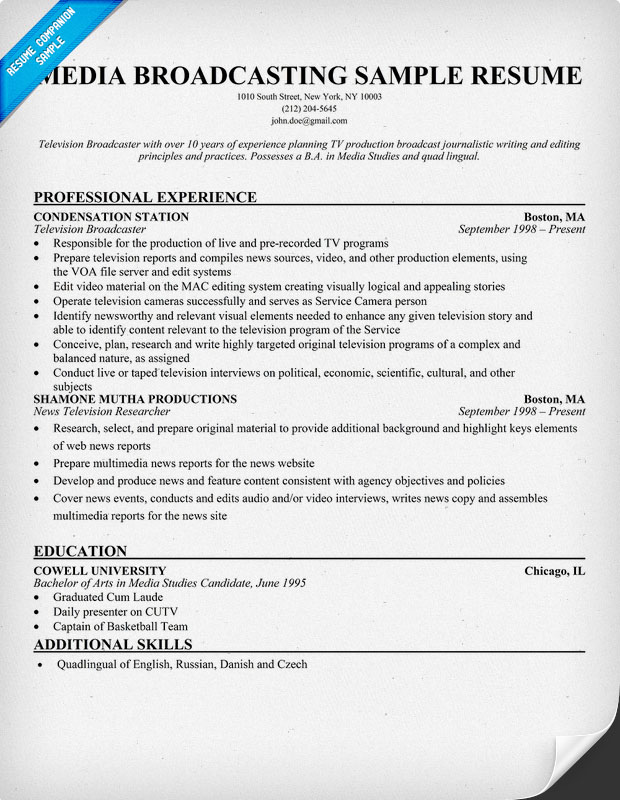 MEDIA BROADCASTING RESUME TEMPLATE
1010 South Street, New York, NY 10003
(212) 204-5645
john.doe@gmail.com
Television Broadcaster with over 10 years of experience planning TV production broadcast journalistic writing and editing principles and practices. Possesses a B.A. in Media Studies and quad lingual.
PROFESSIONAL EXPERIENCE
CONDENSATION STATION Boston, MA
Television Broadcaster September 1998 – Present
Responsible for the production of live and pre-recorded TV programs

Prepare television reports and compiles news sources, video, and other production elements, using the VOA file server and edit systems

Edit video material on the MAC editing system creating visually logical and appealing stories

Operate television cameras successfully and serves as Service Camera person

Identify newsworthy and relevant visual elements needed to enhance any given television story and able to identify content relevant to the television program of the Service

Conceive, plan, research and write highly targeted original television programs of a complex and balanced nature, as assigned

Conduct live or taped television interviews on political, economic, scientific, cultural, and other subjects
SHAMONE MUTHA PRODUCTIONS Boston, MA
News Television Researcher September 1998 – Present
Research, select, and prepare original material to provide additional background and highlight keys elements of web news reports

Prepare multimedia news reports for the news website

Develop and produce news and feature content consistent with agency objectives and policies

Cover news events, conducts and edits audio and/or video interviews, writes news copy and assembles multimedia reports for the news site
EDUCATION
COWELL UNIVERSITY Chicago, IL
Bachelor of Arts in Media Studies Candidate, June 1995
Graduated Cum Laude
Daily presenter on CUTV
Captain of Basketball Team
ADDITIONAL SKILLS
Quadrilingual in English, Russian, Danish and Czech
---
---
BONUS: Broadcast Producer Resume!
Production experience is necessary to fill the shoes of a Broadcast Producer; this sample resume represents experience. Pre-production, post-production, director search, vendor relations, creative development – this Broadcast Producer sample resume shows the many hats you must wear, which is the foundation upon which you can build your own unique resume. Include all your relevant professional experiences, especially the experiences that explicitly show your leadership abilities. Tell a story of an acclaimed piece that you produced. You never know, your next employer may be that person that follows your body of work.
BROADCAST PRODUCER RESUME TEMPLATE
1754 Emerald Spring Key, Zuni, Oklahoma, 73702
(212) 204-5645
jonathan.doe@gmail.com
Broadcast Producer with 10+ years of experience in management, business relations and communications requires a position as a Senior Broadcast Producer. Possesses a B.A. in Studio Art and a proven track record of successful leadership.
PROFESSIONAL EXPERIENCE
BARTON MEDIA New York, NY
Broadcast Producer February 2001 – Present
Manage all aspects of production including director search, pre- production, live action shoots, editorial, post-production, music licensing, audio mixing and final format delivery for broadcast and web.
Maintain consistent and clear communication with Account Services, Creative Services, and the Director of Broadcast Production by the creation and implementation of clear, concise reports summarizing budgets, project status and outcomes from production meetings.
Keep abreast of agency programs and technology.
Manage production timeline and work with Director of Broadcast Production to assess internal resources necessary to complete projects.
Create strong and on-going professional relationships with industry vendors for project collaborations.
J. H. NETWORKS Grand Rapids, MI
Broadcast Intern September 1997 – February 2001
Reviewed project requests, organized inserts, arranged copies, scheduled proofing, and coordinated production.
Independently managed one radio project, including creative development, budget, preproduction, and production.
Brain-stormed with participating interns about project ideas.
Assisted with one public video project
Participated in recording sessions and shoots
EDUCATION
CORWILL COLLEGE Chicago, IL
Bachelor of Arts in Studio Art, June 1997
Graduated Magna Cum Laude
Production director of campus talk-show CCND Talks
ADDITIONAL SKILLS
Advanced knowledge of video production and post-production.
Experience working with network clearances, substantiations and the like.
Exceptional leadership skills
Intrinsic understanding of assigned client(s) industry including by the outdoor industries, action sports industries, lifestyle industries, and luxury industries.
---
---
DOUBLE BONUS: Radio Program Director Resume!
Here is the Radio Program Director resume sample. As you read this sample resume you can see how it is very similar to the Radio Broadcasting Director resume. In both roles, music is monitored, content is reviewed for adherence to company and FCC rules and regulations, on-air staff is coached and occasionally the directors fill in for their employees. So what is the difference between the Music Director and Program Director? Well, the difference is you. Use this sample resume as a guide to create a resume that uniquely represents you.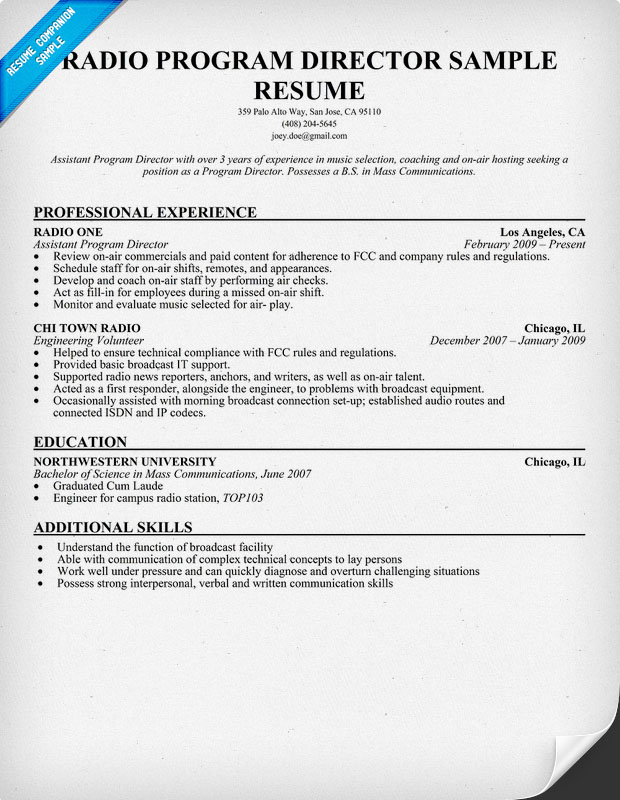 RADIO PROGRAM DIRECTOR RESUME TEMPLATE
359 Palo Alto Way, San Jose, CA 95110
(408) 204-5645
joey.doe@gmail.com
Assistant Program Director with over 3 years of experience in music selection, coaching and on-air hosting seeking a position as a Program Director. Possesses a B.S. in Mass Communications.
PROFESSIONAL EXPERIENCE
RADIO ONE Los Angeles, CA
Assistant Program Director February 2009 – Present
Review on-air commercials and paid content for adherence to FCC and company rules and regulations.
Schedule staff for on-air shifts, remotes, and appearances.
Develop and coach on-air staff by performing air checks.
Act as fill-in for employees during a missed on-air shift.
Monitor and evaluate music selected for air- play.
CHI TOWN RADIO Chicago, IL
Engineering Volunteer December 2007 – January 2009
Helped to ensure technical compliance with FCC rules and regulations.
Provided basic broadcast IT support.
Supported radio news reporters, anchors, and writers, as well as on-air talent.
Acted as a first responder, alongside the engineer, to problems with broadcast equipment.
Occasionally assisted with morning broadcast connection set-up; established audio routes and connected ISDN and IP codecs.
EDUCATION
NORTHWESTERN UNIVERSITY Chicago, IL
Bachelor of Science in Mass Communications, June 2007
Graduated Cum Laude
Engineer for campus radio station, TOP103
ADDITIONAL SKILLS
Understand the function of broadcast facility
Able with communication of complex technical concepts to lay persons
Work well under pressure and can quickly diagnose and overturn challenging situations
Possess strong interpersonal, verbal and written communication skills
---
---
TRIPLE BONUS! Radio Broadcasting Music Resume
Let's take a look at this Radio Broadcasting Music Director resume sample. Using this resume as a guide, you may have noted the many software packages listed under the additional skills section.  If you are interested in working as a Music Director, make sure to include internships - paid and unpaid – that have bestowed the KSA's necessary to get hired.
RADIO BROADCASTING MUSIC DIRECTOR RESUME TEMPLATE
89 South Street, Boston, MA 02107
(617) 204-5645
josephine.doe@gmail.com
Program Director with over 10 years of experience seeking to become a Music Director for a large market radio station. Possesses a B.A.in Broadcasting and extensive programming knowledge.
PROFESSIONAL EXPERIENCE
HJBL – M RADIO Boston, MA
Program Director September 2006 – Present
Develop and coach on-air staff; audition and hire on-air talent.
Assure the on-air content adheres to all rules, regulations and policies of the station, the company, the FCC and all federal, state and local laws.
Authorize the airing of commercials and paid programming media.
Plan and oversee all on-air programming, promotional activities and radio station production.
Coordinate with programming and sales staff to plan and execute marketing, promotions and imaging campaigns.
WBLJ RADIO NETWORKS New York, NY
Assistant Program Director March 1999 – August 2006
Planned on-air programming and production.
Reviewed programming available from distributors, syndicators, and independent producers to recommend acquisitions for broadcast.
Approved music logs and music selection to ensure balanced rotation and airplay.
Budgeted for programming department.
Prepared and performed on-air shifts, remotes and appearances when needed.
EDUCATION
POLYTECHNIC UNIVERSITY Brooklyn, NY
Bachelor of Arts in Broadcasting, June 1998
Graduated Cum Laude
Engineer at campus music station, PUFM
ADDITIONAL SKILLS
Ability to operate control and mixer boards, CD player, reel to reel, remote and satellite equipment
Creative thinker and superior interpersonal skills 
Excellent knowledge of programming software including GSelector, NexGen, Adobe Audition, MS Office Suite and Arbitron
---
---
QUADRUPLE BONUS! Radio Promotion Director Resume
A radio promotion director has the responsibility of working with various departments to try and sell and promote the radio station through on-air competitions, various programming and phone-ins with listeners. The events may change depending on location and time; however, the aim is to always keep listeners. Adapt this radio promotion director sample resume to highlight your public relations knowledge as well as you people skills.
RADIO PROMOTION DIRECTOR TEMPLATE RESUME
4273 Broad Grove Ramp, Penetanguishene, Ohio, 43635
(212) 204-5645
john.doe@gmail.com
Director of Radio Promotion with over 10 years of experience of radio marketing and promotions, internet digital applications and achieving sales targets. Possesses a B.A. in Public Relations and excellent judgment of cultural trends
PROFESSIONAL EXPERIENCE
HAWTINGO'S ON AIR Boston, MA
Marketing and Promotion Director September 1998 – Present
Prepare the annual budget of $5.6M+ and develop and implement procedures of excellence for outside events and digital integration
Manage and control marketing expenditures of the market to conform to budgetary requirements
Implement procedures for maintaining consistent marketing presentations for all stations
Manage and conduct regular meetings with the Remote Techs, Promotion Directors, and promotional assistants
Ensure that appropriate Self-Management is exercised at all times, as it applies to the overall function
SWIVEL RADIO Boston, MA
Marketing Assistant September 1998 – Present
Ensure effective interdepartmental communication as it applies to the ongoing execution of this functions main responsibilities at all times
Assist the Sales and Programming Departments in capitalizing on manufacturer funded business through identifying leads and assisting Account Executives in developing advertising and promotion ideas for these prospects
Seek out, create and implement new avenues to grow the station's brands in the market
Stay current with all relevant industry information as it applies to the overall job responsibility and implement new avenues to achieve the cluster's marketing goals
EDUCATION
COWELL UNIVERSITY Chicago, IL
Bachelor of Arts in Public Relations Candidate, June 1995
Graduated Summa Cum Laude
Awarded "Best CU Radio Broadcaster"
Organized the first CU Circus of the Moon – A music festival - $100,00+ revenue and 15,000+ attendees
ADDITIONAL SKILLS
MS office 5+ years
Adobe Illustrator 4+ years
---
---
QUINTUPLE BONUS! Television Promotion Director Resume
As a TV promotion director one will try to promote and sell a television program or network to its customers. This TV promotion director resume example focuses on creativity, managing people and co-coordinating projects. Adapt this example of a TV promotion director sample resume to try to focus on key projects you were a part of including your ability to stay in budget and increase revenue.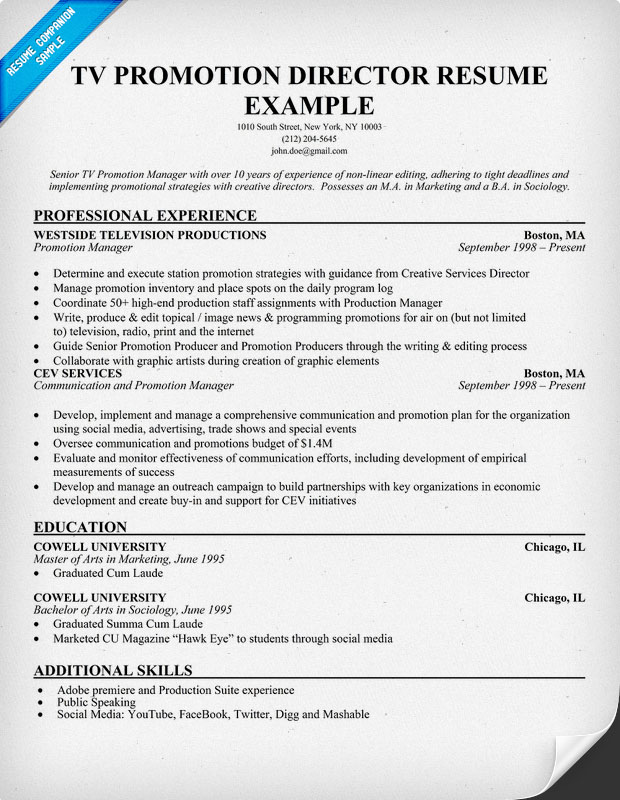 TV PROMOTION DIRECTOR RESUME TEMPLATE
1606 Lazy Branch Acres, Chistochina, Oregon, 97543
(212) 204-5645
john.doe@gmail.com
Senior TV Promotion Manager with over 10 years of experience of non-linear editing, adhering to tight deadlines and implementing promotional strategies with creative directors. Possesses an M.A. in Marketing and a B.A. in Sociology.
PROFESSIONAL EXPERIENCE
WESTSIDE TELEVISION PRODUCTIONS Boston, MA
Promotion Manager September 1998 – Present
Determine and execute station promotion strategies with guidance from Creative Services Director
Manage promotion inventory and place spots on the daily program log
Coordinate 50+ high-end production staff assignments with Production Manager
Write, produce & edit topical / image news & programming promotions for air on (but not limited to) television, radio, print and the internet
Guide Senior Promotion Producer and Promotion Producers through the writing & editing process
Collaborate with graphic artists during creation of graphic elements
CEV SERVICES Boston, MA
Communication and Promotion Manager September 1998 – Present
Develop, implement and manage a comprehensive communication and promotion plan for the organization using social media, advertising, trade shows and special events
Oversee communication and promotions budget of $1.4M
Evaluate and monitor effectiveness of communication efforts, including development of empirical measurements of success
Develop and manage an outreach campaign to build partnerships with key organizations in economic development and create buy-in and support for CEV initiatives
EDUCATION
COWELL UNIVERSITY Chicago, IL
Master of Arts in Marketing, June 1995
COWELL UNIVERSITY Chicago, IL
Bachelor of Arts in Sociology, June 1995
Graduated Summa Cum Laude
Marketed CU Magazine "Hawk Eye" to students through social media
ADDITIONAL SKILLS
Adobe premiere and Production Suite experience
Public Speaking
Social Media: YouTube, FaceBook, Twitter, Digg and Mashable
comments powered by

Disqus