You've seen a lot of advice on how you should write a resume, but here are a few tips on how to NEVER write one. Amazingly, these mistakes are incredibly common — we see them all the time.
That's right. The job competition is thinner than you think, ladies and gentlemen — because standing above the rest is as easy as NOT killing your resume as soon as it hits the hiring manager's desk.
Starting from the basics. Here's the fastest way to accidentally murder your resume.
1. Strangle it with spelling and grammar errors
There's no more efficient way to send your resume to an early grave than by having spelling and grammar errors. The more, the merrier (deader). You would think that this would be the easiest problem to avoid. After all, word processors show you that irritating little squiggly red underline if you spell something wrong.
And you can ask someone else to proof read it for you. Yet, we see this all the time. Yes, it's real — the text has been enlarged to aid your reading.
People seem to have death wishes for their resumes. This one is, admittedly, worse than normal. Still, we get thousands of resumes with basic (but common) spelling errors.
Here's a short list of spelling mistakes
that we constantly see on these resumes.
Errors on your resume will instantly give the impression that you're incompetent. Don't slay your resume with this common mistake.
2. Make it ugly, misshapen, and unfit for life
A basic rule of human behavior is that we generally like pretty things, and dislike ugly things. One instinct we have is to pet an adorable puppy or a dog, and protect our cute little helpless children. The other instinct we have is to smoosh irritating, hideous looking things like insects.
When it comes to resumes, hiring managers are ruthless, uncaring monsters. It won't matter too much how beautiful and relevant your work experience is if your resume isn't pleasing to look at. The hiring manager will merely think to himself or herself, "What the heck is wrong with this person? Gross."
Then they'll crumple up the resume and put it into the trashcan with extreme prejudice. For instance, this one:
This is a great example of a "wall of text" resume that only an insane person would have the patience to read. I mean just look at it. It's begging to have its life ended. "Please. Kill me." It just wasn't made for this world. Don't make this mistake.
3. Fail to protect your resume from harsh, alien conditions
Your resume is a little bit like an astronaut landing on another planet. Every hiring manager has set the conditions for survival in their environment in their job descriptions.
It's up to you to suit up your resume so that it can land on the surface and survive the hiring manager's harsh scrutiny.
So here's a great way to murder your resume. Give it the wrong space suit — or no protection at all — when it lands on the hiring manager's alien planet (AKA HIS/HER DESK).
For instance, are you thinking about becoming a secretary? The hiring manager's job description probably requires that you know how to use Microsoft Suite software, type at a 60 words per minute, know how to organize efficiently, and be punctual.
So wouldn't it be interesting if you wrote your entire resume about your ability to upsell wine at a fancy Italian restaurant, and carry heavy trays of food?
No, it wouldn't be interesting. Your resume would asphyxiate and melt instantly on the hiring manager's harsh alien planet. It would die a fast and brutal death.
"But" you ask, "what does being a waiter have to do with being a secretary? How can I make that work experience relevant to being a secretary?"
Well, did you have to organize and/or memorize orders? Did you keep a book of people's names and faces to recognize customers and give them better service? Did you have to memorize dish ingredients so that you could give inquiring customers the information they wanted?
Do you have an example of displaying excellence and teamwork during your job? These are tangentially related, certainly. But it's enough to give your resume a chance of survival!
Adapt your resume to suit the environment of the job you're applying for. Don't let it melt or freeze or strangle due to gross negligence.
4. Riddle your resume with bullet points
This is a resume, not a drive by shooting. You're not just supposed to machine gun every single minor job responsibility and duty you've ever performed at every single job you've ever worked at.
You would not believe the number of people who write the same bullet points for every job they did. Just look at the example below.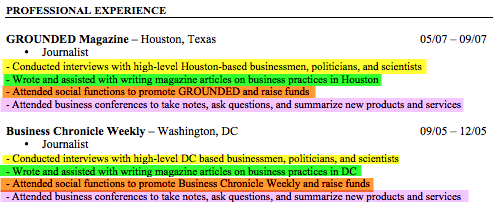 This person literally repeated the bullet points in each job. Not good.
Here's a rule of thumb: if you did it at one job, you probably already know how to do it. So why mention it twice? Shooting your resume up with excessive amounts of bullet points doesn't make it look longer and more impressive; it just makes it look deader and more full of holes.
Writing basic job responsibilities is also not a good idea. "Used Microsoft Word to write up reports" is not a good example of a secretary's job responsibility. It's vague and obvious.  Everyone knows secretaries do that. What you need to do is make it specific. "Wrote three weekly two page reports for the advertising director, advising him/her on various courses of action to take."
Phenomenal. Don't shoot your resume to death with bullet points. It's a silly mistake to make.
5. Drown your resume in falsehoods
So now you've read this guide and you're thinking that writing a resume is maybe not so easy. You're thinking that to be competitive, you're going to need to stretch the truth and lie.
So your resume lands on the hiring manager's desk, and its perfection, its relevance, and its intelligent targeting blow him/her away. You get called in for an interview. They start asking questions about all of that beautiful work experience you lied about.
And that's when you realize that your resume is a ball-in-chain, it's the concrete in your boots, it's a lead jacket on your body and you're in the water, and you're sinking fast. How can you answer questions about something you know nothing about?
Unless you're Leonardo DiCaprio from Catch Me If You Can, you are probably not a talented enough liar to get away with it.
Don't drown your resume in lies. You're just going to sink with it. You can read here to figure out how to write an excellent resume without lying, no matter what kind of experience you have.
So, those are the top 5 ways to slaughter your resume on the spot. So if you want a job, remove these poison pills from your resume.