Writing a nursing resume for a job application could not get any simpler with freely available resume formats online. The tips below define what a best resume layout should look like and you can customize your own if you follow the instructions keenly. Below we also outline some interesting information about the nursing industry, including some amazing statistics. Enjoy!
More Sample Resumes by Industry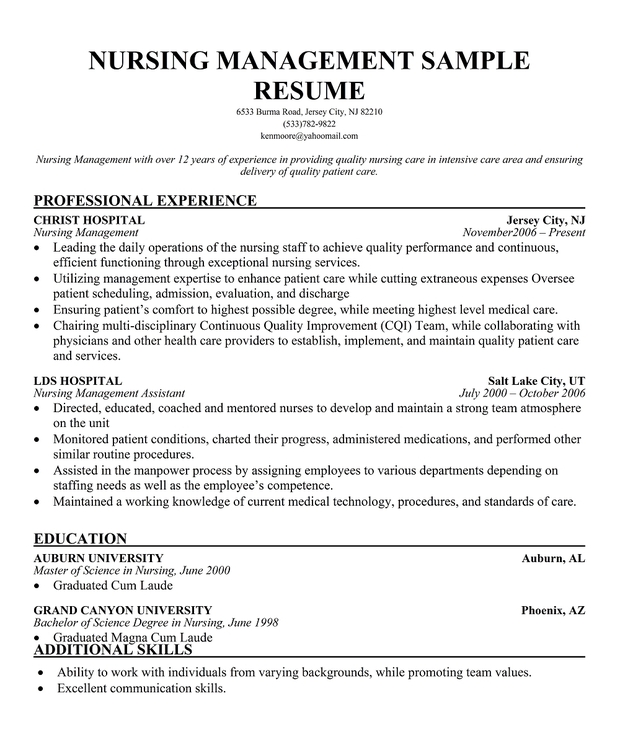 How To Write a Nursing Resume
Essential Tips:
Both veteran nurses and new graduates alike should take time considering what to include on their resume, and how that resume should be formatted. The range of educational and certification paths that lead into nursing means that resumes can vary in how they are formatted, so that your resume primarily shows (highest up the page) your strongest assets as a candidate.
Reverse chronological format – Nursing resumes can follow the traditional 'reverse chronological' format, including a professional experience section, education, additional skills and optionally a licenses and certifications section. You can also include a career objective at the top of that highlights any certifications such as ACNPC, AFN-R, BPHN, CCM, CCRN, LPN, RN and so on.
Education first if newly qualified – Another option is to list certifications before your professional experience, along side your education section, though this is typically recommended for newly qualified nurses with minimal professional experience.
Focus on experience if you have it! A more experienced nurse or healthcare professional may list education last, just above additional skills as it may have occurred some time ago. Instead you need to highlight the extent of your experience, something considered extremely valuable in this industry! List this first.
Unique/valuable clinical skills – Don't forget to diversify and include unique skills you have, especially tangible clinical skills or special equipment you are familiar operating. Another great way to stand out as an applicant is to include volunteer work. These small things can make the difference between landing a nursing interview and just missing out on it.
Social media profiles – Finally, make sure your social media profiles are either set to private or are free of any photos, statuses or videos that could be viewed as unprofessional and thus jeopardize your chance of getting an interview.
Career Objective:
The career objective section is composed of a short statement of your experience, the skills you've acquired and what you offer the next employer in terms of value. This is normally the determinant when it comes to recruiting managers selecting resumes to go through to the end or to trash away. Here's an example of a nursing career objective:
Registered Nurse with over 20 years experience serving in different government and private hospitals. Possesses a Masters degree in Nursing and is a NeuroVascular Registered Nurse (NVRN).
If you have a large amount of work experience, writing a "Qualifications Summary" instead of a career objective can be very helpful. Read this post to find out how to write it. Alternatively you may want to create a Summary of Skills at the top of your page – this is where you can list 6 or 9 key clinical skills that you possess, immediately highlighting your potential as a candidate.
Professional Experience:
Employers normally look out for result oriented individuals and that is what this section achieves if the best resume layout is applied.  The professional experience will be normally composed of:
Your employers' details (current and past employer).
The dates of your current and previous employments.
The responsibilities you handle and handled as well as resulting achievements.
Also, highlight promotions by listing the new job position as a new part of the professional experience section and include a bullet point explaining the promotion was awarded.
Education:
This section is rather straight forward and is also written in a reverse-chronological order like the experience section. The content of this section in a best resume format will normally include: The school name and location, year of completion and GPA achieved.
Such an example would be:
JOHNS HOPKINS UNIVERSITY                                                                    Baltimore, MD
Master of Science in Nursing, December1992
Graduated Cum Laude.
Fundraised $20,000 for the Kill Malaria Campaign.
Additional Skills:
This section outlines your achievements after graduation especially during your working experience. It can indicate your are versatility and willing to better your skills. Some of these skills can be achieved individually or through certification. Whichever way, they can be indicated as done in the following example:
Bilingual – Polish and English.
ICT proficient
CHPN, CHRN,CMA certified
The additional skills section is an awesome way to help you keyword optimize your resume, helping you get past recruitment software that only looks at how many related keywords you have in your resume (in this case, related to nursing.) Be sure to read this post about how to get past the robotic screeners — it is critical in the 21st century.
With these tips, you now have all it takes to write the best resume for a job in the nursing sector – go get it!
Why Nursing?
Nursing appears to be a very attractive industry these days. Not only does it offer a rewarding and gratifying job, but also a solid career ladder to climb, with plenty of opportunity to further develop your career and knowledge via specialization. As the info-graphic above indicates, there is a predicted shortage of nurses forecast for the near future. With over 500,000 nurses due to retire before 2020, and a potential 711,090 jobs due to be created before the same year, there seems to be a secure future ahead for anyone practicing this industry!
Obamacare and healthcare legislation, aimed at guaranteeing access to high-quality health care for all, indicates another stabilizing influence on this profession that will surely lead to more job openings. In 2012 National Healthcare Expenditure was estimated at $3 trillion by Forbes, truly showing the size of this industry and it's employment potential. However, not everyone can become a nurse; it can be a highly stressful career, testing mental, physical, intellectual and emotional strength on a daily basis. Nurses are hard working, highly dedicated and committed to their patients, and work some of the longest hours out of all the professions.
It also requires in-depth training and years of practice, to hone your nursing skills. With an ever-increasing work force, graduates and even post grads are entering this profession, driving competition. Between 2000 and 2008 the number of Registered Nurses (RNs) with a degree increased by nearly 2 million, while the number of RNs with just a high school diploma fell by nearly a 3rd, from 29% of all RNs to just 20%. This is why it is imperative your resume does you justice when representing your potential as a nurse.
If you need your nursing resume in a hurry, then let our free resume maker write it for you in minutes.