Knowing how to write a cover letter isn't always enough to nail down an interview. These days, your application needs a consistent, attractive appearance to help it stand out.
Fortunately, you don't need fancy word processing software to craft a stunning cover letter. There's a wide array of excellent cover letter templates available for Google Docs that you can use and edit from any device — even your mobile phone!
Here's a list of the five top Google Docs cover letter templates available online, as well as a breakdown of how to start using them.
You can also look through our free library of cover letter templates if you're not a fan of Google's designs.
Three Cover Letter Templates from Google
Google Docs offers a handful of default cover letter templates available on their website. While basic, they're attractive and will make your application look modern and professional.
1. Swiss
"Swiss" brings a splash of Nordic modernism (you know, like Ikea) to any cover letter. Sporting clean lines and a stylish asymmetrical layout, this cover letter template from Google is professional and cutting-edge. Want to give your application a sleek, artistic look? This is the perfect template for you.
2. Spearmint
The appropriately named "Spearmint" cover letter template is a breath of fresh air. Featuring crisp lines and pleasing mint green details, this Google Doc cover letter template is the ideal choice if you want to give your application a modern, formal appearance.
3. Geometric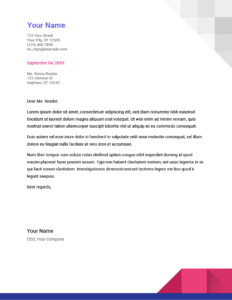 Featuring colorful pixelated details and a minimal layout, the "Geometric" cover letter template for Google Docs is technical but fun. This template works well for anyone applying for jobs in tech or product design.
2. Three Special Google Docs Cover Letter Templates
In case you need a cover letter that's more formal — or Google's offerings just aren't your style — we've included three additional custom-made cover letter templates that you can easily upload to Google Docs.
These professional templates are guaranteed to grab the hiring manager's attention.
1. Stand-Out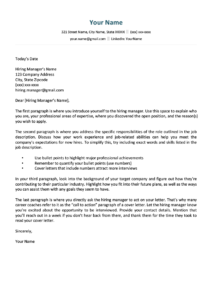 Featuring quiet lines and a minimal header, this simple cover letter template is uncomplicated and formal. If you need to give your application a formal, no-nonsense look, then this is the cover letter template for you.
2. Elegant
A splash of color in the header helps this cover letter stand apart from the competition. With a simple design and classic details, this template is ideal for any position.
3. Minimalist
True to its name, this cover letter template keeps distractions to a minimum. A basic header design and formal color palette give this template a simple, formal look that any hiring manager will be comfortable with. If you need to play it safe, this is the perfect cover letter template for you.
If you liked any of these Google Docs cover letter templates, you can download them for free on our basic cover letter templates page.
3. How to Access Google Cover Letter Templates in 3 Steps
Don't know how to start using these lovely templates? Don't worry. Editing your Google Docs cover letter templates is simple.
First, you can either click here to go directly to Google's full templates gallery, or if you prefer step-by-step instructions, simply follow the directions below to open a new template yourself.
Step 1: Open a new Google Document
Open a blank document in Google Drive.
Step 2: Click File → New → From template
Open the "File" menu, then go to "New" and "From template." This will open the full list of Google's default template options.
Step 3: Scroll down until you see "Letters" and select your favorite template
Once you've opened the templates library, you'll see a full list of available templates — from project proposals to resumes. Scroll down, and you'll soon find the cover letters section.
Now you have access to a handful of Google Docs cover letter templates that you can use to enhance your job application.
4. Make Your Own Cover Letter with Google Docs
Now that you have some great new cover letter templates through Google Docs, it's time to start getting started on those job applications.
But Google can't do the writing for you. So if you're interested in saving some time and making your job hunt even easier, give our easy-to-use cover letter builder a try and our software will help you write an impressive cover letter in just a few minutes.