Don't know how to write a great cover letter? Our cover letter examples can help.
First, we explain the four key parts found in every great cover letter. Then we provide examples of the five most common types of cover letters, and explain what makes each example effective for getting a job.
Finally, we provide a range of industry-specific cover letter samples if you're looking for writing tips specific to the job you want. Let's begin:
What should a cover letter include?
There are four components of a great cover letter:
A formal greeting (or salutation)
A catchy introduction
Convincing (and job-relevant) body paragraphs
An effective closing
Professional cover letter greeting
Dear [Mr./Ms./Mrs./Mx. Hiring Manager's Last Name] (avoid addressing your cover letter to "Dear Hiring Manager" or "To Whom It May Concern" if you can.)
Catchy cover letter introduction
Introduce yourself at the start of your cover letter. Explain how you found the job, what your professional background is (if you have one), and what makes this particular company one you want to work for.
Convincing body paragraphs
In your first body paragraph, provide examples of your past work experience. Explain how these examples make you an ideal candidate for the open position.
Also address needs mentioned in the job description — specifically by showcasing how your professional skills will help you meet those needs (you can use exact words or phrases from the description if you want).
Bullets that highlight professional achievements enhance your cover letter
Use numbers to give your achievements context, and make them easier to quantify
The hiring manager will read your bullets — make them count
Your second paragraph gives you space to further expand on your relevant qualifications.
Or if you're able to find information about the company's goals from their website or on social media, use this paragraph to mention how your qualifications and skill-set can help them achieve these goals (if they're related to your skills).
Effective cover letter closing
Let the hiring manager know that you're thankful they took time to read your application, and include your contact information (phone number and email address is enough) for their convenience. Politely note that you'll be in touch if you don't hear back from them in a week, and that you're looking forward to discussing this opportunity further.
Sincerely,
[Your First and Last Name]
1. Example of a generic cover letter
Looking for a general cover letter sample that applies to any type of job? This generic cover letter applies a formula that works for any candidate with a little experience.
In this example, our candidate has worked for four years as a computer technician, and is applying for his first senior-level position. By the end, he has:
Mentioned where he found the job.
Showcased his relevant qualifications.
Ended with a strong closing — one that encourages the reader to contact him.
The cover letter example
Dear [Hiring Manager's Name],

My name is Johnny Job Seeker, and I'm writing to submit my application for the [Job Position] at [Company Name] that was posted on Indeed.com. As a passionate computer technician with over 4 years of experience troubleshooting problems, installing security systems, and maintaining high-traffic networks, I'm confident I would be a strong addition to the team at [Company].

Based on your job listing, I understand that you're looking for a technician with experience in network maintenance, which happens to be one of my primary strengths. While employed as a technician at Fiber Corp, I spearheaded full upgrades to our network infrastructure over the course of a year, leading to a 35% average increase in upload and download speeds, as well as a 50% decrease in downtime. As a result, productivity (and employee satisfaction) vastly improved across the company.

Additionally, while at Fiber Corp, I've had the opportunity to hone my knowledge of common software and hardware issues on Mac OS as well as Windows 8 and 10. I'm confident that my diverse knowledge of technical issues, strong track-record of troubleshooting and resolving problems, and excellent customer service will make me an instant contributor to the team at [Company].

I look forward to discussing this exciting opportunity and my qualifications in greater detail with you soon. I'm available to speak at your earliest convenience. I'll also be following up next week, just to make sure you've received my application.

Thank you for your time and consideration,

Johnny
What makes this a good cover letter
What makes this example of a general cover letter excellent is how the candidate immediately gets to the point — efficiently introducing himself and highlighting his relevant skills and qualifications at the top of the page. This is important because recruiters typically only spend a few moments looking over each application.
Then, the candidate immediately moves into the specifics of his relevant job experience. Note that he lists detailed achievements, and backs them up with hard numbers.
He also includes an anecdote about how his work impacted the company as a whole, noting that he contributed to a 35% increase in upload and download speeds, and a 50% reduction in downtime. These kinds of quantified details help clearly demonstrate what the candidate is capable of, and what qualities he has to offer the company.
Lastly, the candidate ends his cover letter with a strong closing, proposing an interview and telling the hiring manager that he'll reach out if he doesn't receive a response. This helps push the hiring manager to respond to his cover letter.
2. Example of a cover letter with no work experience
Our entry-level cover letter example shows you how to write a cover letter with no experience that highlights the qualifications you do have, so you can start getting interview calls soon.
This sample cover letter was written by a recent college graduate, who only has a minor amount of on-campus work experience.
In our example, the candidate is applying for an entry-level production assistant position at a broadcasting studio. He starts his cover letter by stating his enthusiasm for the position, and then goes on to showcase his relevant hands-on experience, demonstrating that he's qualified for the role.
The cover letter example
Dear [Recruiter's Name],

My name is Bart Applicant and I'm a recent graduate of Swarthmore College with a B.A. in Communications. As a fan of the exciting work being done by those at [Target Company], I'm thrilled to submit my application for the production assistant position. With my strong academic background and experience running student radio, I'm confident that my production skills will quickly help me become a valuable asset to your team.

In my former role running student radio at Swarthmore, I was responsible for scheduling shows, booking and accommodating guests, and operating sound and recording equipment. While employed there, I assisted in the budgeting for and installment of new recording equipment, resulting in an overall 12% jump in weekly listenership. I'm confident that this experience will allow me to quickly start contributing to projects at [Company Name].

I also understand that you're looking for candidates with a background in online media. While at Swarthmore, I gained extensive experience in online media, including:
Starting a weekly YouTube vlog
Building a regular audience of over 5,000 viewers
Leveraging social media to build my following and engagement
The production assistant position at [Company Name] would be an exciting opportunity for me to put my knowledge of new media to the test, and learn more about an exciting new frontier in broadcasting.
I've attached my resume, which further details my skills and educational background. Thank you for taking the time to review my application, and for your consideration. I look forward to speaking with you further about this opportunity, and I'll follow up next week just to make sure you've received my application.
Regards,
Bart Applicant
What makes this a good cover letter
This entry-level cover letter example stands out because the candidate makes up for his lack of qualifications with genuine enthusiasm.
From the first couple lines of his cover letter introduction, the candidate emphasizes his excitement about working for the company. Employers recognize that hiring a candidate with little experience can be risky, so showing enthusiasm for a position can help reassure them that you're a good fit for the job.
Then, the candidate hits upon his relevant experience and skills in the body paragraphs and bullet points. Although he doesn't have any formal work experience, he makes up for it by highlighting the practical knowledge gained from his volunteer work (like building viewers and how to leverage social media).
Not only that, but he connects his limited experience to the needs and goals in the job posting — proving to hiring managers that he's done his research about the position, and is ready to tackle the challenges being faced by the business.
By the end of his cover letter, the candidate has successfully demonstrated that he has the skills needed to excel in the position, and that his enthusiasm can more than make up for his other shortcomings.
3. Example of a cover letter with work experience
If you're writing a cover letter as someone with plenty of professional experience, you'll need to take a different approach than if you were an entry-level job seeker.
Specifically, your relevant expertise must be made very clear, quickly. If you can't convince hiring managers that you know what you're talking about, your application will get discarded in a hurry.
Whether you're applying for a senior-level position or a managerial role, this retail manager cover letter example provides some helpful hints on how to come across as a qualified, competent professional.
The cover letter example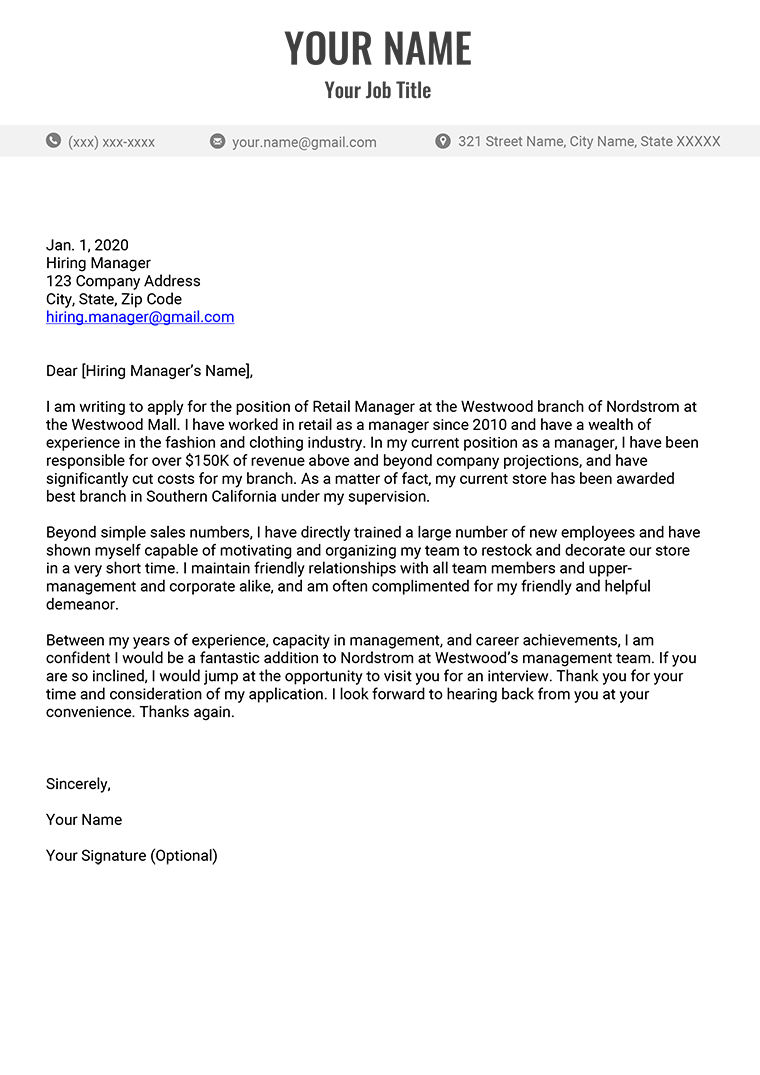 What makes this a good cover letter
The most powerful part of this cover letter sample is actually its introduction. Whereas many cover letters arrive at their main marketable achievements and skills in the body paragraphs, this applicant has already hit on major points like achieving revenue projections, cutting costs, and receiving awards before even starting the second paragraph.
And as a managerial candidate, the job seeker who wrote this cover letter knows that their qualifications alone aren't good enough to get the job. Soft skills are also crucial. That's why they mention the following four soft skills in their second paragraph alone:
Ability to motivate
Organization skills
Friendliness
Helpfulness
Lastly, they sound sincere in their closing paragraph. The fact that the candidate would "jump at the opportunity" to interview comes off as more than just an expression — it makes it seem like they truly want to work for the company. Your qualifications may get you the interview, but sincerity will help you get the job offer over other candidates.
4. Example of a career change cover letter
If you're making a career transition, you'll need a cover letter that makes your reasons for changing fields clear.
The following example cover letter was written by a woman who has only ever worked in the service industry. Her real passion is styling hair, and she wants to pursue a new career as a hairstylist.
In this cover letter sample, our candidate is applying for an apprenticeship at a hair salon. To win over the hiring manager, she clearly:
highlights the reasons she's passionate about hairdressing
outlines her past work experience
adds a complimentary postscript (P.S.)
Dear [Hiring Manager's Name],

Since I was a teenager, I've been passionate about styling people's hair to create different looks and help them become the best-looking versions of themselves. I was at my happiest doing my mom's hair for her wedding to my step-dad. I've been working as a [Job Name] since graduating high school. I've improved my customer service skills to become the most popular member of the [Previous Company] team, collecting tips on average 17% higher than my colleagues.

Recently, I realized that employment a a [Job Name] doesn't fill me with the same sense of satisfaction that styling hair does. With this in mind, I'm excited to be applying for the role of apprentice hair stylist at [Salon Name], where I'd have an opportunity to work in an industry that makes me feel more fulfilled.

To meet the needs of your salon I've:
completed a 200-hour hair styling course offered by the San Diego Hair Academy.
volunteered 60+ hours for the Harriet's Hair non-profit organization, providing hair makeovers for patients at local hospitals.
I'm excited about this opportunity, and hope to hear back from you soon. You can reach me at [Your Phone Number] or [Your Email]. Thank you for taking the time to consider my application.
Sincerely,
[Job Applicant's Name]
P.S. I love the décor at [Salon Name], your interior designer has great taste!
What makes this a good cover letter
This cover letter example makes a positive impression because the job applicant showcases exactly why she wants to make a start in a new field.
She begins her cover letter by explaining that she's always been passionate about styling hair — for her, it's not just a hobby but a lifelong interest that she wants to turn into a career.
Then the candidate brings up her impressive record at her current job. By focusing on her skills at earning tips from customers, she not only proves she's a higher performer than her colleagues, but she also shows she has people skills (which are transferable to her target job).
And because our candidate lacks relevant professional experience, she makes sure to mention her relevant volunteer work and training. By using concise bullet points to highlight the 60+ hours she's spent giving hospital patients makeovers and her 200+ hour professional hair styling course, she emphasizes her passion as well as qualifications.
She puts the adds a finishing flourish by including a P.S. at the end of her letter. By the end, this sample career change cover letter has conveyed the applicant's passion and commitment for her new line of work, despite her relative lack of experience. Sometimes this is just what it takes to get the interview.
5. Example of a unique (or creative) cover letter
Applying for a job at a company with a more casual office culture? A more creative cover letter will help you get noticed.
The following cover letter example takes a fairly unique approach by some casual use of the English language. However, it still manages to be professional. Also note that its design was specifically chosen to catch the eye of a hiring manager in a less formal office setting.
The cover letter example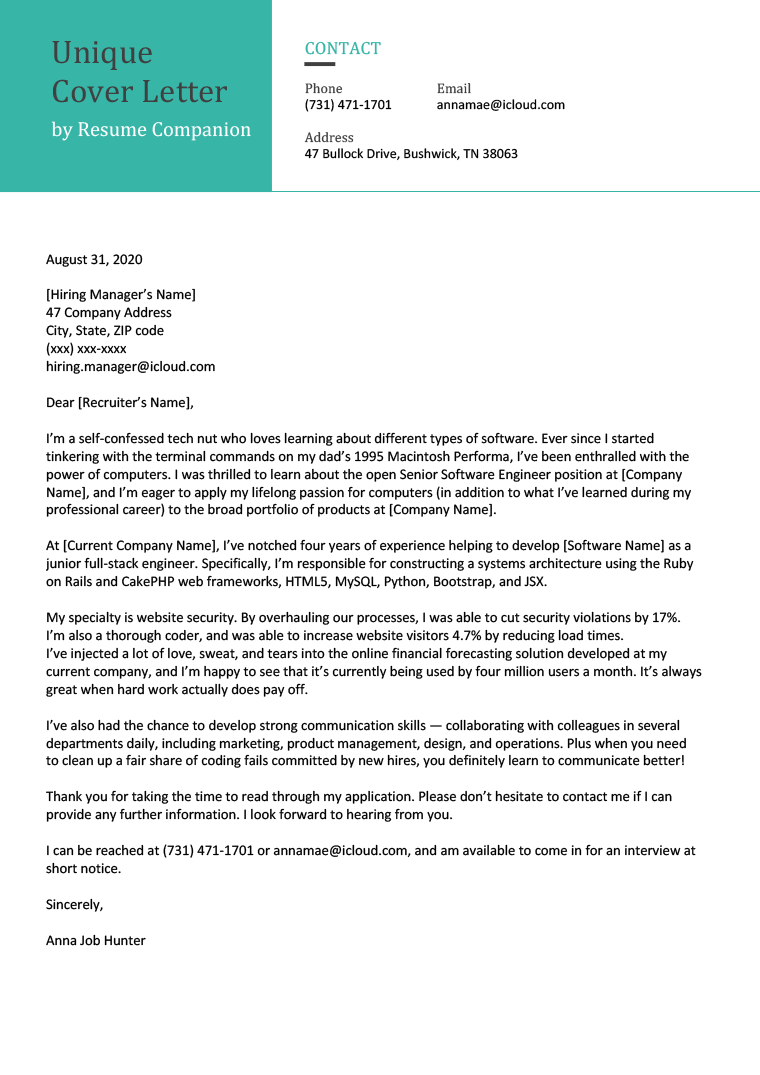 What makes this a good cover letter
This cover letter sample is effective for several reasons.
First, it contains an eye-catching design. A splash of color is added in the top-left corner to make it stand out from the pile of bland, black-and-white cover letters the hiring manager is likely to have sitting in front of them (it's simply a more interesting cover letter format).
The applicant also imbues her personality into her cover letter. We get an impression of her enthusiasm for all things technology when she describes herself as a "self-confessed tech nut." Her passion for her work is made extremely clear when she describes the "love, sweat, and tears" that she's put into her company's software product.
The purpose of a unique cover letter is to make your application stand out, and ensure the hiring manager remembers you. By combining a creative design with an injection of personality, this example cover letter boosts the chances of our candidate — even making her creativity a potential talking point during an interview.
Note that some industries are more conventional, and a creative cover letter could be seen as unprofessional. If you're applying for a job in fields like law, finance, or politics, make sure to use a more general cover letter.
Cover letter examples by industry
Looking for industry-specific cover letter examples? We provide many sample cover letters for you to choose from, and they're all free to download.
Click your industry to get started, or use our search bar to access the cover letter examples you're most interested in.
Industries & Fields
Accounting & Finance Cover Letters
Arts, Entertainment & Music Cover Letters
Construction & Labor Cover Letters
Customer Service Cover Letters
Domestic Worker Cover Letters
Drivers & Transportation Cover Letters
Education & Teaching Cover Letters
Food Service Cover Letters
Information Technology Cover Letters
Law Enforcement & Public Safety Cover Letters
Life Situation Cover Letters
Marketing & Sales Cover Letters
Nursing & Healthcare Cover Letters
Office Worker Cover Letters
Students & Internships Cover Letters