Writing a cover letter with little or no formal work experience can be difficult. Our cover letter example and expert writing tips will help you put together an entry-level cover letter that highlights your strengths and downplays your lack of experience.
Entry-Level Cover Letter Sample
Here's a sample cover letter with no experience written by an applicant who's applying for an entry-level production assistant position: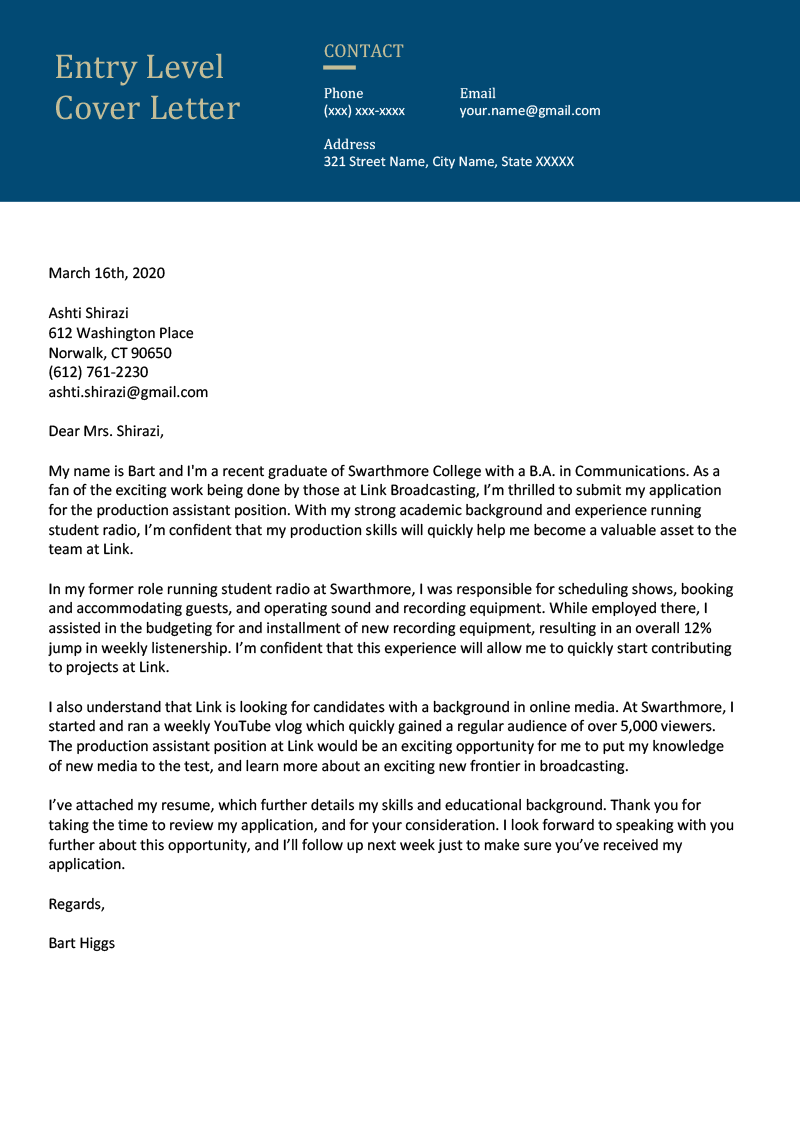 Entry-Level Cover Letter Sample (Text Version)
Text Format
Dear Mrs. Shirazi,
My name is Bart and I'm a recent graduate of Swarthmore College with a B.A. in Communications. As a fan of the exciting work being done by those at Link Broadcasting, I'm thrilled to submit my application for the production assistant position. With my strong academic background and experience running student radio, I'm confident that my production skills will quickly help me become a valuable asset to the team at Link.
In my former role running student radio at Swarthmore, I was responsible for scheduling shows, booking and accommodating guests, and operating sound and recording equipment. While employed there, I assisted in the budgeting for and installment of new recording equipment, resulting in an overall 12% jump in weekly listenership. I'm confident that this experience will allow me to quickly start contributing to projects at Link.
I also understand that Link is looking for candidates with a background in online media. At Swarthmore, I started and ran a weekly YouTube vlog which quickly gained a regular audience of over 5,000 viewers. The production assistant position at Link would be an exciting opportunity for me to put my knowledge of new media to the test, and learn more about an exciting new frontier in broadcasting.
I've attached my resume, which further details my skills and educational background. Thank you for taking the time to review my application, and for your consideration. I look forward to speaking with you further about this opportunity, and I'll follow up next week just to make sure you've received my application.
Regards,
Bart Higgs
How to Write a Cover Letter With No Experience
Even with no experience, you can still write an impactful entry-level cover letter that markets your skills. Here is what you need to include to improve your chances of getting an interview:
Write a Strong Introduction
Your cover letter introduction is one of the first parts of your application that hiring managers will read, so it's important that you know how to start your cover letter in a way that grabs attention. This is especially crucial if you're applying to jobs with little or no experience, as your cover letter is your best chance to make a convincing pitch of your qualifications to the hiring manager.
First, start your cover letter by introducing who you are, and why you're passionate about the position. Employers know that hiring a candidate with minimal work experience can be risky, so it's important to reassure them that you're enthusiastic about the job, and prepared to do what's necessary to succeed in the role.
Then, in three to four sentences, offer:
A short blurb regarding your background (especially your education)
Any relevant experience or skills that match the job description
Additionally, if you have personal connections to current employees of the company, briefly mention them as a reference in the introduction (if you have permission from the employee).
Highlight Your Relevant Accomplishments
Just because you don't have formal work experience, doesn't mean you don't have relevant experience or skills.
Use your cover letter to highlight your accomplishments, whether they be from school work, volunteering, or hobbies relevant to your desired position.
Be sure to use quantifiable descriptions to illustrate the impact of your accomplishments. Such descriptions involve numbers, percentages, and specific information that show the hiring manager — in concrete terms — what you're capable of.
For example, instead of stating that you "helped the company reach its quarterly goals," you can say that you "raised quarterly sales 5% per quarter for the past three years."
Emphasize Your Education
You don't have work experience yet, so how do you write a cover letter that highlights your strengths? Simple: you start with your education.
Reinforce your resume education section by listing real-world educational experiences that highlight your skills. For example, appropriate educational experiences could include any of the following:
Club activities (student government, any club leadership positions, student radio)
Special projects you completed (your thesis, research projects)
Research opportunities in which you participated (polling, scientific research)
When listing your educational experience, just make sure each example is relevant to the job description.
For example, if you see in the job description that the company is looking for an employee with "impeccable time management skills", you could address that need in your cover letter. For instance, you could cite a time you took the lead on an important project and kept everything on schedule, or a time you juggled multiple projects at the same time.
Remember to be specific, and use key terms that apply to the job you want. For example, if you apply for an administrative assistant position, you can discuss computer software, time tracking apps you've used in the past, and tasks you've accomplished before, such as "booking flights" or "scheduling multiple interviews."
Close with a Strong Ending
You've convinced the hiring manager that you're qualified for the position — now you just have to push them to schedule an interview with you.
That's why ending your cover letter with a convincing closing (sometimes referred to as a call-to-action since it calls the reader to act) is essential.
To write an effective closing, follow these three steps:
Tell the hiring manager you'd love the opportunity to discuss the position and your qualifications further.
Mention that you will follow up with the employer within a week to check on your application.
Finally, thank the hiring manager for their time and consideration.
Don't Let Your Lack of Experience Limit You
Don't be discouraged by your lack of professional experience. Real-life experiences you already have can be turned into accomplishments, and skills you've learned during these experiences can help you round out your entry-level cover letter.
To feel even better about submitting your cover letter, run the text through a word processor to check for spelling and grammatical errors. Then ask a friend or family member to read over your cover letter to see if it's appropriate for the entry-level position you want.
But before you start putting pen to paper, try our easy-to-use cover letter builder. Our algorithm will save you time, and build a professional entry-level cover letter for you in just a few minutes.
We also offer an advanced resume builder that lets you build a professional resume in no time, and helps you fill out experience bullet points that make most sense for your application.