Not sure how to write your resume? Don't worry – you aren't alone. People from all careers find themselves at a loss when it comes to figuring out the right way to create their resumes. This includes politicians, scientists, construction workers, and shop clerks.
Whatever the job is you're applying for, we can show you how to write a resume that will land you job interviews.
Obvious as it may be, a resume is a document that showcases your work experience, profile, education, and skills. The purpose of writing a resume is to get invited to job interviews. Ultimately, putting it together is an important first step to getting a great job and advancing your career.
This is kind of a broad definition. As such, it may be helpful to describe what a resume isn't. First, it isn't just your work experience. It also isn't simply a list of your skills, awards, and certifications. Not to mention, a resume is also very different from a curriculum vitae (CV). Be careful not to mix them up.
In short, a resume isn't:
A list of previous jobs, skills, or awards
Your Curriculum Vitae
The only thing you need to do to get a job
You want to list some of your skills, and some of your work history, and some of your qualifications, all to convince a company to offer you an interview so you can land a job. With your resume, you are both describing and kind of bragging about your best qualities. So when you're writing your resume, keep in mind that it's a showcase. It is meant to display you in the best light to get you interviews.
1. Pick the Right Resume Format
First things first; where do you begin? Before you start listing off all your accolades, you need to decide what format of resume you want to use.
There are a few factors you need to consider. Some resume formats do a good job of highlighting experience. Others are better at displaying your unique skill set. Some are even especially effective at downplaying less than positive features.
The way you format your resume will depend on your personal circumstances, as well as the job you're applying to.
Here are the main resume formats, along with the circumstances in which they're most useful:
1. Chronological Resume
Also commonly called "reverse chronological," this is the most common format and probably the resume style you already use to apply to jobs.
The chronological resume is great for clearly displaying your experience or education history and they are a solid choice for just about any level of experience.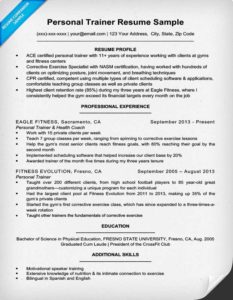 to illustrate your career progression over time

to show upward career mobility

applying for a similar job to those on your resume
you have large employment gaps in your work history

change jobs frequently

starting a second career or switching fields
This is called "reverse-chronological" because you start with your most recent position at the top, then list them in order with the least recent at the bottom.
2. Functional Resume
This resume format is basically the opposite of chronological.
The functional resume focuses more on specific skills, accomplishments, or accolades. In functional resumes, your skills and career highlights are towards the top. Your work history ends up closer to the bottom (and is much shorter).
This format is excellent for project-based workers or freelancers, or for workers who want to hide large work gaps from a potential employer.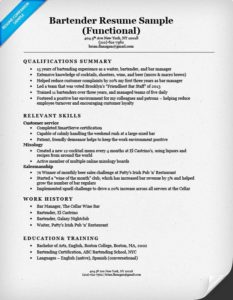 to highlight a set of skills or accolades displaying those skills
when going back to work after an extended period
changing careers or fields
you are entry-level candidate that has very little work experience

trying to show you have climbed the corporate ladder (or grown in your field)

lack professional skills or certifications
Why shouldn't you use this format if you are an entry-level applicant? Because you should be straightforward about being entry-level. The functional format would seem to hide that fact, as well as detract from valuable internship.
3. Combination Resume
This resume format, like its name indicates, is a combo of the functional and chronological formats.
The combination resume is great if you want to impress a potential employer with a mixture of skills and experience. It's also useful for job seekers who want to highlight a very specific set of skills and how their work experience has helped build those abilities.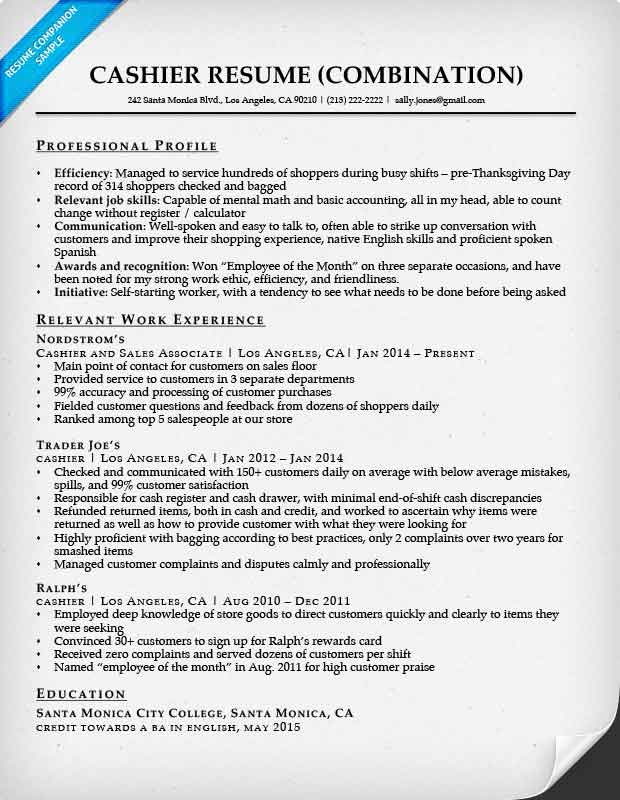 to show you are extremely skilled in the job field you are applying

to show a developed skill in a specific field

when changing industries or careers
you are an entry-level job applicant

lack experience or a well-defined professional skill set

you want to make your education background stand out
If you want to know more about resume formats, be sure to give our very detailed and helpful guide a look.
2. Resume Sections: Structure and Organization
Now that you have your resume format picked out, you need to craft your resume sections. In this section we show you how to compose each section of your resume. Remember, how you present these sections, or whether or not you include them at all, is largely dependent on your format or personal preference.
Contact Information
Like it says, this resume section is simply for your contact details so that the company or potential employer can get in touch with you to schedule an interview. Generally speaking you should include the follow information:
Name (This should have the largest text on the entire document. Remember, your resume is about you.)
Address
Phone Number
Email
Website or digital portfolio link
LinkedIn Profile
You can include this information either in your resume header or in a dedicated section.
The resume sample to the right shows you how it should look (see the highlighted section).
Resume Introduction
There are three main resume introduction styles, all of them excellent in different situations. These intros are another tool for highlighting skills and work experience, as well as providing a potential employer with specific information as to why you're applying and what your career goals are.
Summary of Qualifications
Also known as a qualifications summary, this is basically a list of bullet points explaining why you are qualified for the position. Very clear and descriptive, the qualifications summary is great if you are applying for a job that asks for a very specific set of skills.
Remember, even though the summary is a list of bullet points, avoid being vague. Quantify where you can.
you need a way to display a few skill sets

you have lots of experience

the job requires very specific abilities you need to show you have
you are entry-level or lack work experience

no major accolades or certifications

have only one specific skill set you need to highlight
Career Objective
Unlike a qualifications summary, this resume introduction is less about what you can do and more about what you will do. You should also touch on the skills you possess, but you want to talk about how you'll use them. Keep it down to 2-3 well-written sentences.
The career objective (or 'resume objective') is an effective way for entry-level candidates and people specifically targeting one company to start their resume.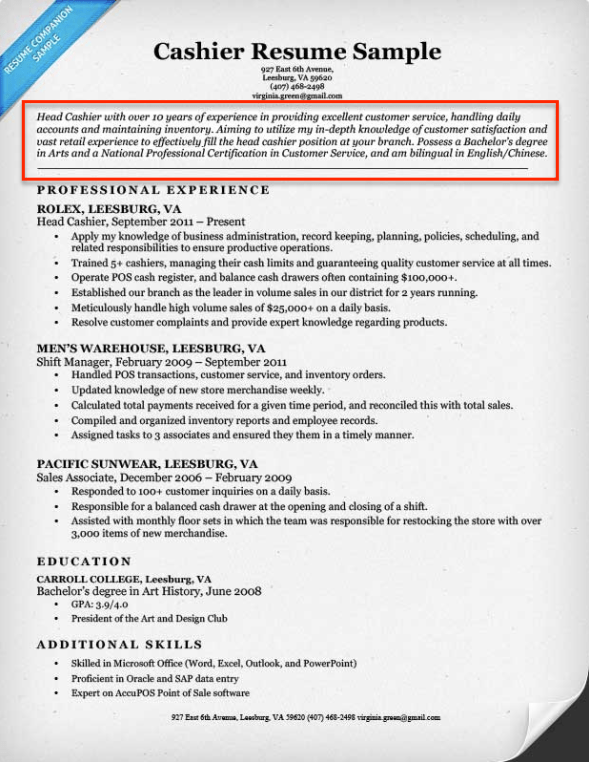 you are an entry-level applicant

recently graduated from high school or university

lack experience in the industry you're applying to
the job is asking for very specific skills

you have a high amount of relevant experience

you are applying for a project, not long term
Professional Profile
The professional profile, also know as a resume profile or professional summary, is basically a combination of the previous two introductions. Usually written out as a 2-3 sentence paragraph, in this intro is a summary of your skills, key achievements, and qualifications.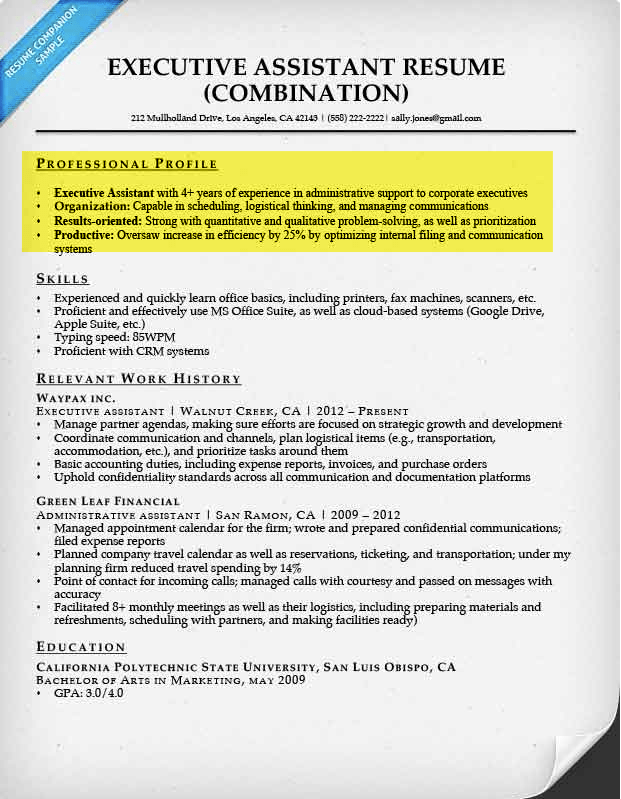 can highlight major achievements in previous jobs

have special skills that might give you a competitive advantage

applying to a job similar to your previous positions
have yet to reach major accomplishments

are an entry-level applicant

your experience speaks louder than your skill sets
A professional profile can also be a list of bullet points. However, if you do it this way, remember to include more than just your skills. Also include some of your major professional achievements.
If this sounds like the ideal introduction for you, our resume profile guide can walk you through how to use this intro to impress employers and advance your career.
Work Experience
Your work experience is the most important part of your resume. This is especially true if you're using the chronological resume format. For most hiring managers, this is what they look for immediately after reading your resume intro. As such, it is critical that you write this section of your resume well, even if you use a combination or functional resume.
Remember that this section of your resume should be a summary of your most relevant work experience, not a complete history.
How to list work experience from a previous job
Always list your current and previous job positions from most recent to least recent (reverse-chronologically). Make sure each position you had is clearly set apart from the others. The company's name should be treated as a heading, so make it bold or a couple of font sizes larger.
After the company name, include your position title and the dates you worked there. This can be next to the company or immediately underneath.
Remember, this section isn't meant to show off your entire career history. Only include your most recent and relevant experience.
Bullet points
Under each job, you should include a few bullet points. These are the best way to clearly illustrate your experience, accomplishments, and the level of responsibility you can handle. This is not a list of your duties. Rather, these bullets are meant to highlight your qualifications and achievements, kind of like an expanded qualifications summary.
Depending on your resume format and what you are trying to highlight, you should include 3-5 bullets as a summary for each job. Here's how to craft perfect work experience bullet points that showcase your achievements, and are certain to get the attention of hiring managers:
3 parts of a strong bullet point:
begin with an action verb
include a quantifiable point
relevant accomplishment or responsibility
Coordinated communication between 3 departments, enabling organization to take action and address issues quickly and efficiently.
Notice the importance of action verbs. They are great tools for getting a potential interviewer or employer's attention and showing you to be a dynamic employee. Also important to remember is to pay attention to verb tense. If you are currently at a company, write in present tense. If it is a previous job make sure you write your bullets in past tense.
Resume Education Section
Every hiring manager looks at your education background, even if you haven't been in school for 20 years. As such, it's important you display your education correctly – and even more important if you are entry-level or a recent graduate.
If you are fresh out of school, you might even consider placing your education background before your work experience. This is because your academic experience will be more relevant than your work history at this point.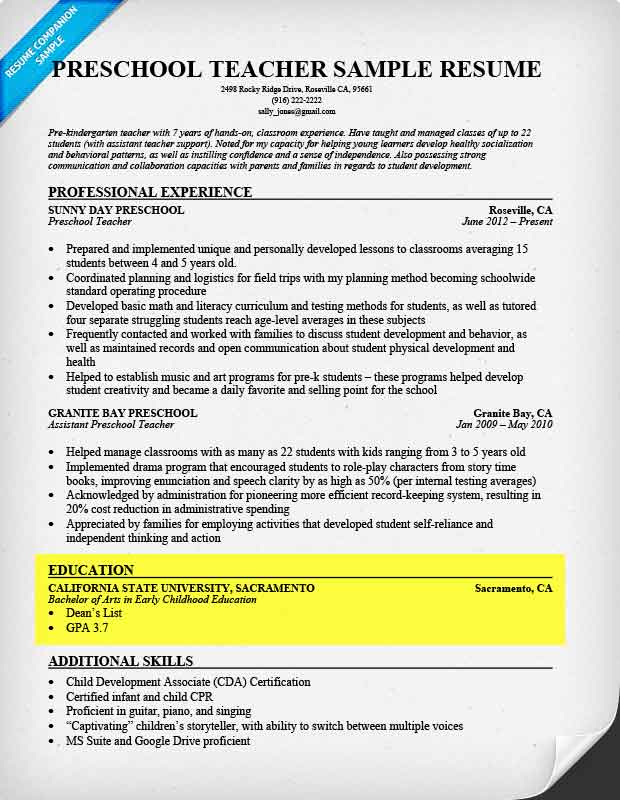 Still, this section of your resume shouldn't be overly long. Keep it simple and direct, and make sure to include:
The name of your school or institution

If you went to college, include that only. If you didn't, use your high school.

City, state, (and country, if outside of the US)
Month and year you graduated (or plan to graduate)
The kind of degree (e.g., Associates of Arts or Bachelor of Science)
Optional: GPA

Only include this if it's above 3.0. If not, just leave it off.
For a little extra help, check out our resume education section example to the right (the highlighted parts). Feel free to copy or use as inspiration for composing your own.
Additional Resume Sections
Skills
The skills section of a resume is just as important as your professional experience section, especially if you are using a functional or combination format. There are, however, three main types of resume skills to include:
Technical skills
These are the skills that are learned or gained through experience. They are either directly relevant to the position or will at least come in handy. If you are applying as a secretary, for example, technical skills would include Microsoft Office Suite and typing speed.
Some examples of technical skills include:
Programming languages (HTML, c++, Ruby on Rails, etc.)
HazMat certification
HVAC certification
Certified drywall installer
Typing speed
Security guard state certification
Commercial drivers licence
Office software systems (MS Office Suite)
Point of sale technology
Customer service skills
Additional skills
This set of resume skills are those that could prove useful, but aren't central to the job. If you are applying to be a construction worker, it's probably not necessary that you speak another language. However, being able to do so could be helpful, so it's good to include it.
Here are some common additional skills:
Second language
MS Office
Commercial drivers licence
Physical strength (can lift x in cargo)
Programming fluency (HTML/CSS,
Java, c++, etc.)
Law / medical degree or experience
Government security clearance
Adobe Suite software
Passed Google Analytics IQ Exam
CPR certified
Soft skills
Soft skills are the abilities that are generally harder to define, but still critical in a work environment. If you are applying to be a manager, having leadership skills or poise would be very helpful. If you have room on your resume, include a few of these skills, especially if they are related to the position.
Many soft skills are commonly used – here are a few of the most popular:
Hard-working
Emotional intelligence
Flexibility
Team player
Logical and analytical
Calm under pressure
"In it for the long haul"
Empathetic
Takes initiative
Conflict resolution
Listener
Eye for improvements
Communicator
Design sense
Appreciates critique
Dependable
Punctual
Motivated motivator
Able to lead when called upon
Detail-oriented
Able to see the big picture
Results-oriented
Patient and deliberate
Reliable and respectful
Keep in mind that your resume skills section should be just one section. When arranging your skills, keep similar abilities grouped together. Also, list them in order of importance. Technical skills generally are the most significant, while soft skills are seen as less of a priority. There are exceptions to this rule of course, so use your best judgement.
Resume skills section "do's"
quantify wherever you can
use specific skills related to the job you're applying for
include unique and interesting soft skills
Resume skills section "don'ts"
include vague or rote skills
list random skills that might not be related to the job
highlight soft skills that are overused or cliche (e.g., dynamic, hardworking, friendly)
Awards, honors, activities
Another section to include, should it apply to you, is awards, honors, or activities. If you have a few in each category, combine them into one section on your resume. The title of it should be whichever ones you are highlighting. So if you've won an industry award and are involved in an inter-company softball league, you would put that in this section as well.
Certifications and licenses
If you have special certifications or licenses, be sure to include them on your resume. For some positions, they're mandatory. Even when they're not, having them will certainly set you apart from other candidates. Some well-known certifications include:
HVAC for maintenance and repair workers
Government security clearance for government agencies or lobbying firms
Certified Information Security Manager for information security positions
Commercial drivers license for transportation and shipping
Hazardous materials handling certification
Publications
If you have an extensive academic background or have been a thought-leader in a given field, you might have published articles, stories, books, or other media. If you do, include them on your resume. This is especially important if you are applying for a position where published work is a necessity. These jobs could include academic posts, government positions, jobs in journalism and media, or even marketing.
Your publications section can be expanded further into a portfolio. Designers, artists, and consultants are known to curate their own portfolios of previous work. If you have publications or work samples that are relevant to your job search, consider putting together one of your own.
3. Resume Style
Now that the hard work is done, you want to make sure everything is as polished as possible. If style is an area you are concerned about, our guide to resume margins can help get you on the right track.
There are a number of stylistic things to consider during the resume writing process. Here are the most important:
Number of pages
Everyone has an opinion on the number of pages a resume should have. While we usually recommend one page for applicants of most skillsets and experience levels, if you have information that is pertinent to the job position, go ahead and include an extra page.
However, if there is only a few lines on the second page of your resume, figure out how to fit them on the first page. Also, resumes should never go over two pages. Remember, your goal is to introduce and sell yourself, not to present your full auto-biography. Aim for clarity and concision.
Resume font size and style
There is no universal agreement on what font to use on a resume, so feel free to choose your own. Be careful however – avoid using unique or silly fonts, more than one color, or tiny / extra-large sizes. Always use black ink and normal text sizes (we recommend 12, but never anything smaller than 10 or bigger than 16 for normal text). When in doubt, use Times New Roman.
Here are some more resume font "do's and don'ts" for reference:
Use clear fonts
Use different sizes for different items
Be consistent – if you use sans-serif fonts, stick with them
Use black ink
Use wacky fonts (e.g., comic sans, wingdings)
Make everything on the page the same size
Switch between too many fonts
Use colors besides black
Many resumes follow the "24, 12, 10 rule". This means your name is in 24 size font, with headings at 12pt and bullet points in 10pt. While this is isn't a hard and fast rule, it is a decent system to consider – the most important information bigger, the details smaller.
Some experts claim that printed resumes look better with serif fonts, while digital versions look cleaner with sans-serif. This is mostly a matter of opinion, but it can't hurt to be aware.
Lines and breaks
Using lines to highlight changing sections can help make your resume easier to read and pull information from. Avoid using too many breaks, but breaking the page between resume sections creates white space that make your resume look more professional and organized.
Here are some examples with good lines and breaks. Feel free to copy any of these formats:
Resume Margins
Margins are the spaces that separate the edges of the page from its content. For a resume, a good rule is to stick with one inch margins all around, so that you have a nice amount of space surrounding your resume. However, if you need to include more on a page, it is acceptable to make your resume margins as small as 0.5 inches. Avoid going any smaller than this.
4. Conclusion
And that's a wrap! If you have followed our advice to this point, you should now know how to write a great resume. So get started writing some stellar resumes so you can land more interviews and get that dream job!
Still need some more help? We have plenty of other resources to help you create a resume that'll have employers practically begging to interview you.
Try out our resume builder to speed up the process, or get inspired by some resume examples that match your target job.
Don't forget that every resume also needs a great cover letter. If you're not sure how to write your cover letter, read some of our helpful guides below: