Writing a summary of qualifications is an excellent way for highly-experienced job candidates to set themselves apart from the crowd. This guide is filled with examples and tips that will help you write your own, and land more interviews.
SEE ALSO > How to Write a Resume
Table of Contents
1. What is a summary of qualifications?
In times past, most resumes would begin with a career objective. In it, the applicant would write a two-sentence description of their main qualifications for the job, and their desire to fill that job opening.
However, resume formatting has diversified to accommodate the needs of an increasingly diverse pool of job seekers. It's becoming more popular (and necessary) to begin with bulleted resume introductions or short summaries that cover your main achievements, qualifications, and skills that qualify you for the job.
Take a look at the following examples:

2. How to write a qualifications summary
In your qualifications summary, you can include sentences/bullets for:
How many years you've worked professionally in your area of expertise, and relate your main job description and/or professional achievement related to the job that you are applying for.
What kind of degree(s) you've earned, and any coursework related to the job you're applying for.
What kind of skills (software, hardware, language, physical, etc.) you have that are related to job you're applying for. Tip: Use both acronyms and their spelled out form for best keyword optimization.
What kind of licenses and/or certificates you've earned, and the job responsibilities you've had resulting from earning these certifications, once again in relation to the job you're applying for.
The best thing that you can do to make your qualifications summary (and the rest of your resume) effective is to read the job description carefully, and try to copy the verb-phrases that the hiring manager has written into it when writing your own job descriptions. That way, it's highly likely that you'll be hitting keywords and key phrases that the ATS will be looking for.
Your summary of qualifications should include a nice range of examples that make your resume really stand out. View our "Elements" table to make sure you're hitting on the key areas.
| Elements | Description |
| --- | --- |
| Expertise | This first point should highlight your total amount of relevant experience. You should also mention some of your key skills, and prove how you used those skills to keep your previous company running smoothly. |
| Productivity | How did you help your former company operate efficiently? Did you save the company time or money? If yes, use examples to illustrate these points. If you were much more productive than your peers, mention this too using numbers. |
| Leadership | How many people have you supervised in the past? Have you helped turn a doomed project into a successful one? Give some concrete examples of your leadership ability for point three. |
| Interpersonal Skills | Are you good at working with people? Give examples of how you've worked well with coworkers, clients and managers in the past. Don't just say "team player" - prove it! |
| Imagination | Have you used creativity to solve any problems at work? Have you headed off any successful projects? Showcase your ability to think outside the box with some solid examples. |
| Awards & Achievements | If you've received recognition at work or in the public sphere (in a newspaper or on television/radio), put it down if you think it reinforces your qualification as a job candidate! |
3. Should I use a summary of qualifications?
"There's more than one way to cook an egg". Similarly, there's more than one way to kick off a great resume. I've used qualifications summaries, resume profiles, and career objectives over the years, and they each have their own unique texture and flavor (both resume intros and eggs). I'll highlight their key differences and functions, and let you decide which sounds most suitable for you.
Summary of Qualifications
A summary of qualifications is used to highlight the variety of work experiences you've built up over time. If you are lacking in the experience department, it might be better to try a different resume introduction. They are often bulleted, but can be written as a short paragraph too if you want to mix it up (no more than six sentences).
On the technical side, the qualifications summary creates another space on your resume to fit in important applicant tracking system (ATS) targeted keywords and impress the company's robotic guardian.
If you have no idea what I'm talking about, read this post on how your resume is likely first being read by a computer program, scanned for keywords, and accepted or rejected based on rating algorithms. It is critical to understand this aspect of job hunting in 2017.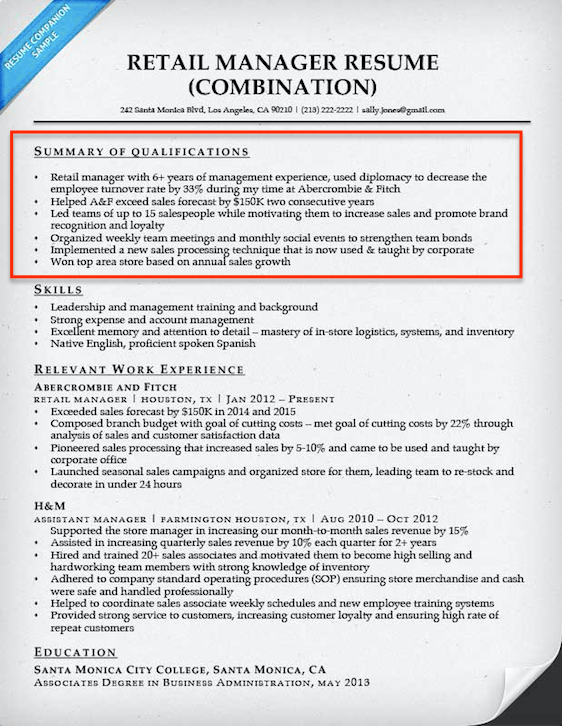 Use if: 
Your work experience is quantifiable (i.e. you can use numbers to prove your value for a former company)

You have a diverse range of skills related to the industry

You are worried about your resume passing the criteria of the ATS
Don't use if:
You are inexperienced

You don't have concrete numbers to use

Your current range of relevant skill sets is limited
Resume Profile
A resume profile (or "professional profile") is a bit like a career objective & qualifications summary hybrid. It's usually four bullets or sentences long, and it touches upon your experience, area of expertise, primary skills and tops it off with a key achievement which should reveal your ability to make an impact as an employee.
This structured approach is great because its content is a bit more general, making it a valuable addition to a LinkedIn profile! Our guide to composing your own resume profile is a useful tool if this sounds like a route you'd like to take.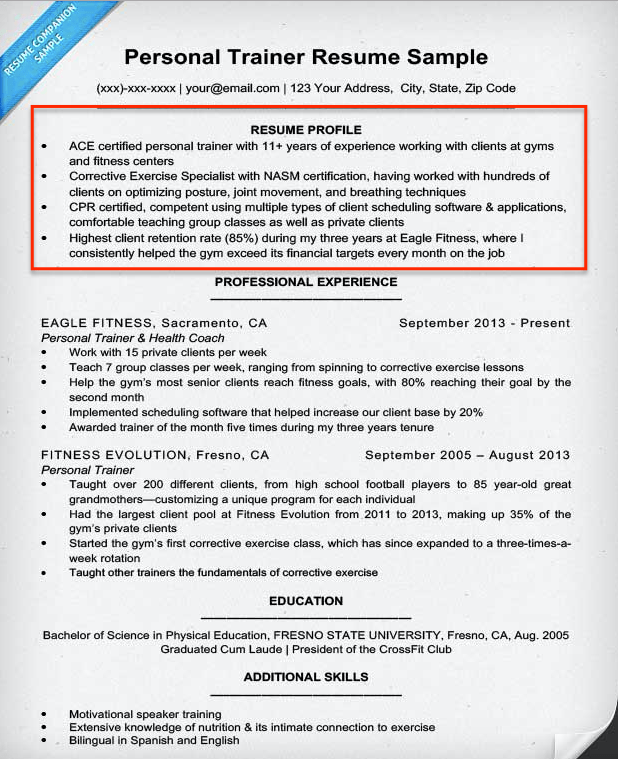 Use if: 
You achieved something impressive while working at a former job

You are trying to land a job in the same field you've already been working in

You are an expert in a certain part of your industry
Don't use if:
You are fresh out of college

You are new to the field

You don't have any major, relevant career achievements under your belt
Career Objective
Career objectives (or resume objectives) are the classic resume introduction, where you target a specific company and explain why you'd make a positive impact if hired. These are commonly used by entry-level candidates and straight-out-of-college graduates because they don't require concrete workforce experience to write.
They're also popular with people interested in targeting a single company with their resume. Feel free to peruse our career objective how-to guide if you're interested in composing your own.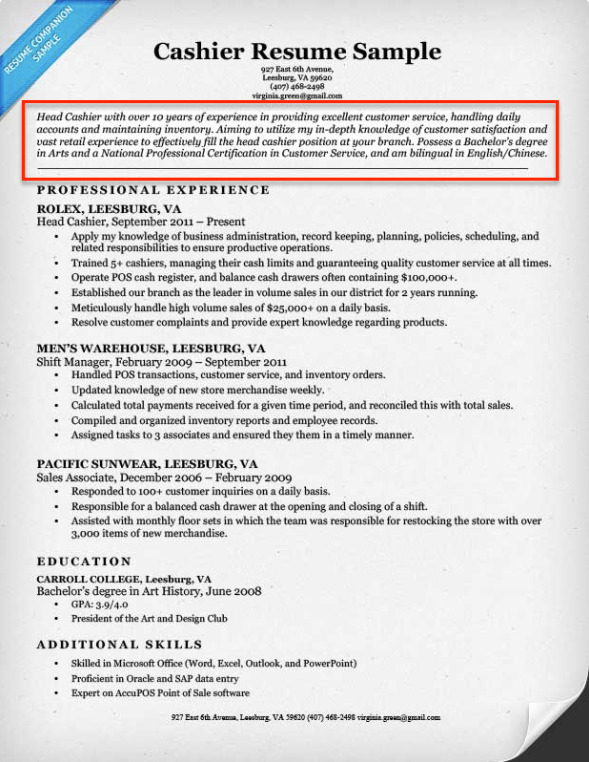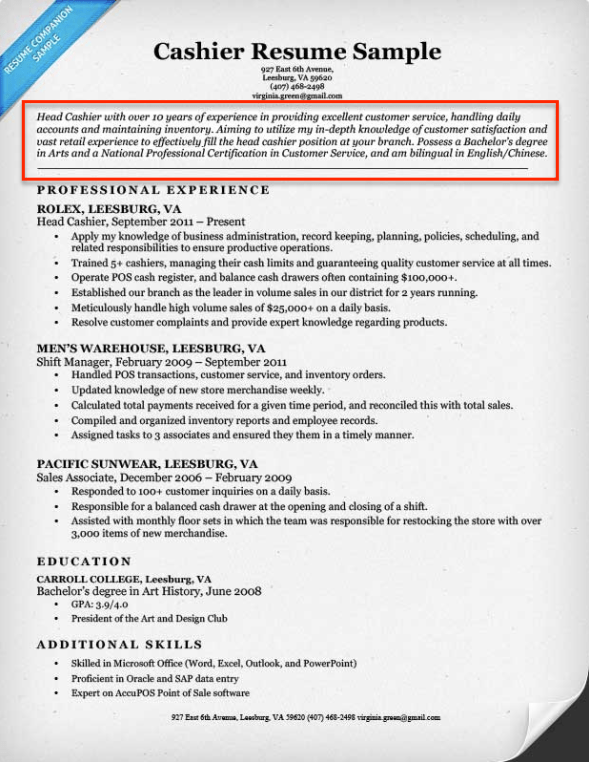 Use if:
You lack substantial job experience

You are targeting one specific position

You are a college graduate
Don't use if:
You are an experienced job seeker

You are changing industries

You plan on submitting a cover letter
4. Summary of qualifications examples
Here are two more examples of effective qualifications summaries:
Example 1: Personal Trainer Summary of Qualifications
ACE certified personal trainer with 11+ years of experience specializing in corrective exercise (NASM certification)

Highest 1-on-1 client retention rate (85%) during my three years at Eagle Fitness

Worked with hundreds of clients on optimizing posture, joint movement, and breathing exercises

Trained co-workers in corrective exercise techniques and helped four other personal trainers achieve C.E. certification

Started the "Call a Member" program, which increased customer satisfaction with our gym and helped make it one of the highest rated gyms in Sacramento

Awarded trainer of the month five times during my tenure at Eagle Fitness
Example 2: Operations Manager Summary of Qualifications
Operations Manager with 12+ years of management experience in manufacturing plants, providing strategic planning and solutions for profitable plant operations, and overseeing daily production activities.

Utilized SAP enterprise resource planning (ERP) software to increase efficiency of supply chain management, decreasing costs by 23% and boosting production by 13%.

Orchestrated the use of DMAVD Six Sigma methodology to launch 3 new products, which resulted in profits exceeding expectations by 16%.

Developed new staff work schedule, increasing productivity by 8% and decreasing employee turnover rate by 19%

Cultivate work environment committed to continuous improvement (CI), consistently improving efficiency and effectiveness of operations every year