Welcome to the Dental Assistant Resume Sample page. Did you know that Paul Revere was an amateur dentist?
Table of Contents
Dental Assistant Resume Sample (Image)
Dental Assistant Resume (Text Format)
Questions to Consider Before You Start Writing
How to Write your Dental Resume
Related
1. Dental Assistant Resume Sample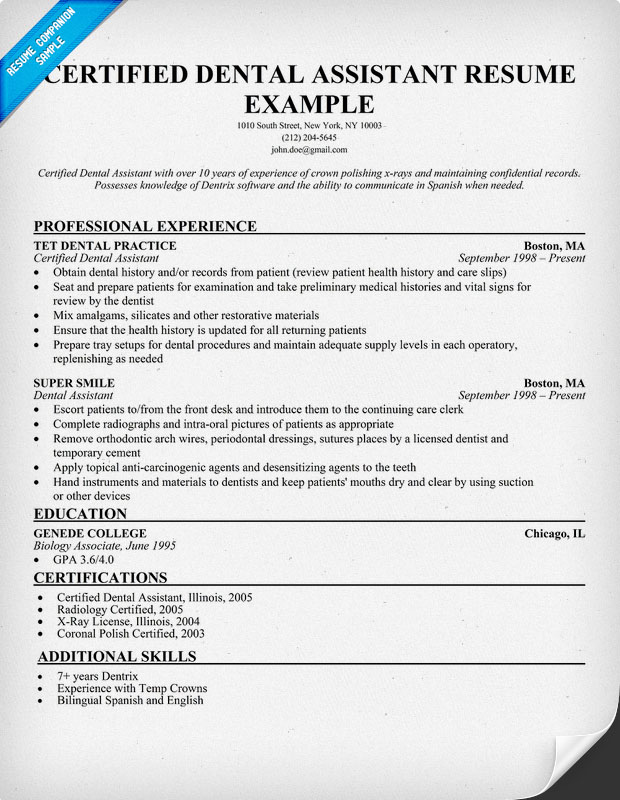 Not your favorite template? We have many more for you to choose from here. By the way, they are free for you to download.
2. Dental Assistant Resume (Text Format)
John Doe
1980 Howard Street, New York, NY 19803
(212) 984-5645
Senior Dental Hygienist with over 13 years of experience of providing the highest level of cares both pre and post operative. Possesses a Dental Hygienist Certificate and extensive knowledge of oral anatomy.
Learn More: How to Write a Resume
PROFESSIONAL EXPERIENCE
TWINKLES SURGERY Boston, MA
Senior Dental Hygienist September 1998 – Present
Perform pre-operative and post-operative preventive dentistry services for urgent hospitalized surgical patients
Obtain current lab reports to determine whether patients are medically cleared for dental prophylaxis
Document dental history and record reports, pertinent observations and patient reactions to dental staff
Maintain a clean, sterile and cheerful environment where our patients feel comfortable, prepare them for treatment, and provide efficient, quality dental treatment
OPEN WIDE PRACTICE Boston, MA
Hygienist Assistant September 1998 – Present
Educate and counsel patients on proper oral hygiene and nutrition
Perform preventive dental maintenance of severely physically/mentally handicapped patients
Evaluate overall oral health, examining oral cavity for signs of periodontal disease or possible cancers, including sores, recessed & bleeding gums, and oral lesions
Document lab procedures and ensure follow up on results
EDUCATION
COWELL UNIVERSITY Chicago, IL
Bachelor of Science in Dentistry, June 1995
CERTIFICATIONS
Registered Dental Hygienist, Illinois, 2001
ADDITIONAL SKILLS
Advanced oral prophylactic
Advanced amalgam restorations
Bilingual Spanish and English
Intermediate Knowledge of Microsoft Office (Excel and Word)
---
3. Questions to Consider Before You Start Writing
Before you get started writing you resume, consider the following information:
There are 9 types of dentistry:
Dental Public Health
Endodontics
Oral and Maxillofacial Surgery
Oral Medicine and Pathology
Oral and Maxillofacial Radiology
Orthodontics and Dentofacial Orthodontics
Pediatric Dentistry
Periodontics
Prosthodontics
A dentist has to go through a lot of school, training, and fieldwork to become a full-fledged practitioner. But it's worth it! Dental hygienist jobs are set to boom in the near future. Still, don't fall into passivity on the job.
The dental industry is well known to be one that is quickly changing. This is due to increasing patient interest, rapidly developing medical technology, and also the changes to healthcare laws mandated by the Affordable Care Act, also known as Obamacare. Be sure to educate yourself on the finer points of these new trends, because they could have an effect on your career if you do not stay ahead of the curve.
When writing your dental resume, try to communicate what it is that you do as a dentist. Below, we will pose a series of questions to help you get started on thinking about the content of your resume.
1. How many patients do you see each year?
On average, dentists see 1,000 every year, with an average of 63 patients per week. Quantifying (adding numbers to) your resume is an important part of communicating your skills effectively to a hiring manager. Wherever possible, try to give scope to the duties you perform, by describing them with numbers.
2. Have you ever been involved in any media engagements, such as speeches, magazine articles, or interviews?
Demonstrate your breadth of knowledge and community engagement by including this information on your resume. Learn how to include the additional sections on your resume here.
3. Are you currently a faculty member at a University or some other kind of school or academy?
You may be involved in doing research projects of some kind, leading to important discoveries for oral health that could change and save lives. Reveal the nature of your research, the size of your team, the company or school sponsoring you, and also give a citation for any research you've published.
4. What have you learned about your field lately?
As stated earlier, the dental industry is developing rapidly. New tools and procedures are constantly being developed, possibly in part thanks to you! Be sure to include any courses, seminars, or training sessions you've attended to either brush up on or learn new skills. If you specialize in one of the 9 forms of dentistry listed above, you should theoretically be constantly deepening your knowledge.
5. If you're a manager, what kind of leader are you?
How many people do you manage in your clinic? How do you ensure that your employees achieve a high standard of safety, hygiene, focus, and skill? Do you measure your employee and customer satisfaction? This kind of information can be very persuasive on a resume.
Now that you've considered these questions, continue below to how to format and write the sections of your dental resume.
But first — does this remind you of you?
4. How to Write Your Dental Resume
Dental resumes are written differently from most resumes. It has unusual sections, and they are listed in a different order than normal resume formats.
The basic structure is this:
1. Contact Details: Let the hiring manager know how to contact you!
2. Education: This section needs to come before your professional experience on a dental resume, because as someone in the medical field, your education says a lot about your skill and depth of knowledge.
3. Licensure: This is the second most important section on your dental resume. They show that you're allowed to practice. Don't forget this section!
4. Professional Experience: In your professional experience section, be specific about the tasks you were responsible for. Do not repeat any if you did the same tasks at different jobs.  Try your best to include numbers in your resume – that way the hiring manager will better understand the scope of your responsibilities. Here are a couple examples of duties that dentists are frequently responsible for:
Fabricated plastic and porcelain facings, crowns, bridges, and precision attachment restorations, as well as performed other specialized procedures.
Managed 10 patients per day, cleaning teeth and performing examinations of dental hygiene.
5. Professional Memberships: Why include a professional membership section in your resume? They show that you belong to a group that sets and enforces standards amongst your peers.
6. Continuing Education: This section is critical for your resume in the field of dentistry. Write the name of the institution, lecture, seminar, or training session you attended, the year you attended it, and the location it occurred.
7. (Professional Meetings): Feel free to include this section, but it isn't necessary. Again, this section demonstrates your commitment to consistently achieving high standards for your practice by conferring with your peers, and learning from them.
8. Research: Only include this section if you have PUBLISHED research. Cite it in APA style.
9. (Community Service): Another optional section that might be more effective if you are applying to work for an NGO.
10. Additional Skills: Being a dentist requires having many skills. The ability to construct bridges, dentures, crowns, and other orthopedic appliances, and use other dental cleaning equipment – these are valuable skills that should be expressed on your resume.
Write any skill that you can think of that are RELEVANT to the job in this section.