Welcome to the Nursing Student (Entry-Level Nurse) resume sample and writing tips page. Here, you can learn how to write an excellent entry-level resume that will launch your nursing career. Not an entry level nurse? You may be looking for:
Registered Nurse (RN) Resume | Licensed Practical Nurse Resume
Table of Contents
Nursing Student (Entry-Level) Resume Sample
Candidate emphasizes number of hours accumulated during clinical experience
Candidate breaks down her professional experience section 1. description of skills learned, 2. tools used, and 3. duties performed
Candidate includes a 'Licenses and Certifications' section to display her credentials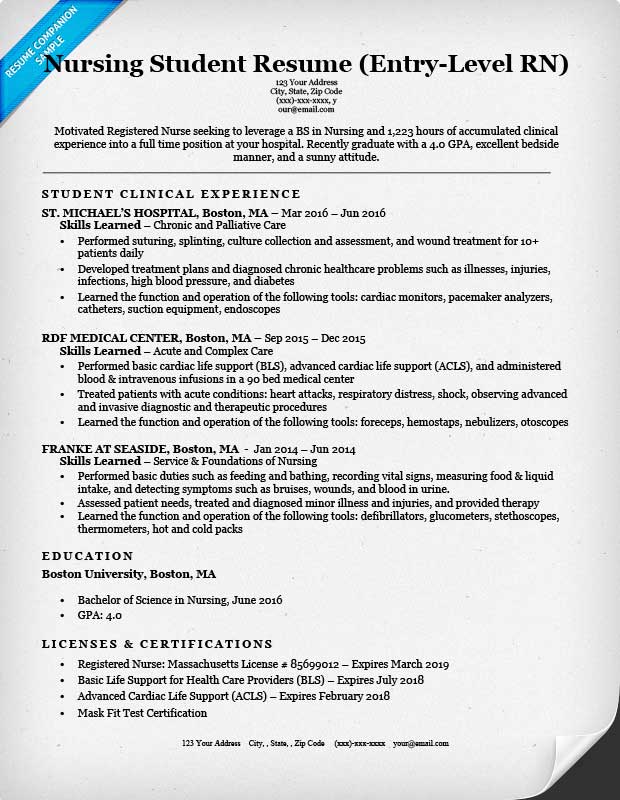 Click to download this resume as an MS Word document
Not the resume you're looking for? View our database of professionally written resume examples.
Not a big fan of this template? View our collection of HR-approved, handcrafted resume templates.
Related Nursing Resumes
Nursing Student Resume (Text Format)
123 Your Address
City, State, Zip Code
(xxx)-xxx-xxxx, y
Motivated Registered Nurse seeking to leverage a BS in Nursing and 1,223 hours of accumulated clinical experience into a full time position at your hospital. Recently graduate with a 4.0 GPA, excellent bedside manner, and a sunny attitude.
STUDENT CLINICAL EXPERIENCE
St. Michael's Hospital, Boston, MA – Mar 2016 – Jun 2016
Skills Learned – Chronic and Palliative Care
Performed suturing, splinting, culture collection and assessment, and wound treatment for 10+ patients daily
Developed treatment plans and diagnosed chronic healthcare problems such as illnesses, injuries, infections, high blood pressure, and diabetes
Learned the function and operation of the following tools: cardiac monitors, pacemaker analyzers, catheters, suction equipment, endoscopes
RDF Medical center, Boston, MA – Sep 2015 – Dec 2015
Skills Learned – Acute and Complex Care
Performed basic cardiac life support (BLS), advanced cardiac life support (ACLS), and administered blood & intravenous infusions in a 90 bed medical center
Treated patients with acute conditions: heart attacks, respiratory distress, shock, observing advanced and invasive diagnostic and therapeutic procedures
Learned the function and operation of the following tools: foreceps, hemostaps, nebulizers, otoscopes
Franke at Seaside, Boston, MA – Jan 2014 – Jun 2014
Skills Learned – Service & Foundations of Nursing
Performed basic duties such as feeding and bathing, recording vital signs, measuring food & liquid intake, and detecting symptoms such as bruises, wounds, and blood in urine.
Assessed patient needs, treated and diagnosed minor illness and injuries, and provided therapy
Learned the function and operation of the following tools: defibrillators, glucometers, stethoscopes, thermometers, hot and cold packs
EDUCATION
Boston University, Boston, MA 
Bachelor of Science in Nursing, June 2016
GPA: 4.0
LICENSES AND CERTIFICATIONS
Registered Nurse: Massachusetts License # 85699012 – Expires March 2019
Basic Life Support for Health Care Providers (BLS) – Expires July 2018
Advanced Cardiac Life Support (ACLS) – Expires February 2018
Mask Fit Test Certification
How to Write Your Own in 3 Steps
Congratulations on your decision to become a nurse. You've chosen to become a critical component of the healthcare system, someone people rely upon to take care them and their loved ones, and that is worthy choice. It's also a smart financial choice — the job outlook for registered nurses is growing at 16%, and the median pay is nearly $70,000/yr.
If you're reading this, that means you're either completing your studies, or you're close to it and need more student clinical experience. No worries — the resume writing methods taught on this page will help all of you format not only your student resume, but any resumes you write in the future. Here's how to get started:
1. Write a Smart Career Objective
First, I'm going to quote the sample resume's entire Career Objective, and label the parts that make it strong.
Motivated Registered Nurse1 seeking to leverage a BS in Nursing and 1,223 hours of accumulated clinical experience2 into a full time position at your hospital. Recently graduate with a 4.0 GPA, excellent bedside manner, and a sunny attitude3.
Point #1: Let the hiring manager know right away that you're a registered (or licensed) nurse. Describe yourself with an attribute — are you: Motivated? Efficient? Organized?
Point #2: As a nursing student, part of your curriculum requires that you accumulate clinical experience. It's smart to include the number of hours in your career objective — it lets the hiring manager know right away that you've gained plenty of experience, and are worth interviewing.
Point #3:  While it's not a requirement for nurses to be sunny and have good bedside manners, it certainly doesn't hurt. If you're not the sunny type, think of some other attributes that an employer would like, such as multi-tasking ability, efficiency, depth of knowledge, or variety of skills.
2. Student Clinical Experience, Skills, and Tools
Next up, writing your Student Clinical Experience section, which is sort of like Professional Experience on a traditional resume. We've formatted this resume to include experience, tools, and skills all in the same section. While it's a bit unusual, that's ok — as long as your resume is clear and provides all of the necessary information, you can format your resume any way that you would like.
The following image makes it clear how each work experience is formatted — 1) skills learned, 2) experiences bullet points, and 3) tools used.
The reason this format works is because it clarifies for the hiring manager exactly what the candidate has learned from his or her clinical experience.
Skills: Tells the hiring manager the general type of nursing care the candidate learned during student clinical experience.
Experience: Tells the hiring manager concrete examples of the types of care the candidate performed during the student clinical experience.
Tools: Tells the hiring manager what types of tools they learned how to operate and use during the student clinical experience.
Altogether, these three aspects of the candidate's experience section gives the hiring manager a very clear picture of his or her skills or abilities, which is critical to landing an interview.
3. Don't forget your Licenses and Certifications
This section is simple, but you should remember to include three points:
Name of the certification or license
State or location where it is valid
Date that it expires
Getting licensed, registered, and certified is a big part of successfully launching a career as a nurse. Certainly, it's even more important for getting promoted, increasing your responsibilities, and increasing your salary.
With those tips, you'll be able to write a solid student nursing resume that lands you more interviews. Remember, you're going to need a companion cover letter to really increase your chances of landing the interview.