After staying at home to be a dedicated mom for your kids, getting back into the workforce is a daunting task without a strong resume. Our stay-at-home mom resume samples and industry writing tips will get you back on your feet in no time! If it's been awhile and you'd like a reminder on how to craft one, read through our how to write a resume guide and you'll be ready to go!
Or, if you don't have time, our state-of-the-art resume builder can help you get it done in minutes.
Table of Contents
1. Stay-At-Home Mom Resume Samples
Wrong profession? Find the right one in our free resume samples library.
Not a fan of the format? Check out our collection of winning resume templates.
2. Related Resumes and Cover Letter
Already finished crafting your resume? Peruse our list of stellar cover letters for tips to nab that job.
3. Stay-At-Home Mom Continuous Work Experience Resume (Text Format)
3182 Clinton Street Elma, NY, 14059
(555)-555-5555
Resume objective
Volunteer Coordinator with 5+ years of experience managing 30 volunteers for Habitat for Humanity and extensive knowledge of Human Resources software. A proven problem solver at the workplace with strong organizational skills and a B.A. in Psychology. Aiming to leverage my experience and people skills for a position in management.
Professional Experience
HABITAT FOR HUMANITY, Buffalo, NY
Volunteer Coordinator, May 2012 – Present
Screened and hired 20 new volunteers to work on building projects
Completed and maintained records regarding the volunteers and their service
Communicated details with volunteers regarding their roles and responsibilities
Worked to address any concerns related to work or regarding other volunteers
Obtained knowledge of and followed equal employment laws and guidelines when hiring volunteers
ELMA ELEMENTARY SCHOOL, Elma, NY
PTA Treasurer, August 2009 – April 2012
Assisted in developing a budget of $60,000 for the school year
Organized fundraisers to generate more than $32,000 in income for PTA activities
Presided as chair of the finance committee, a body which determined how to divide up PTA funds
Managed funds by keeping careful records of income and expenditures
Submitted a comprehensive report detailing the use of funds at meetings
Education
VASSAR COLLEGE, Poughkeepsie, NY
Bachelor of Arts in Psychology, May 2000
GPA 3.6/4.0
Graduated Cum Laude
Additional Skills
Bilingual in English and French
Proficient in ADP Workforce Now and Walling Info Systems Recruiting Wizard
Familiar with LinkedIn, Google, and Microsoft Access
4. Three Resume Writing Tips for Stay-At-Home Moms
1. Make sure you go with the right format
Different women approach being a stay-at-home mom in different ways. The same should be said about how to choose the right format.
Some moms keep themselves busy by volunteering or serving their community in other ways. For these moms, look to our sample for stay-at-home moms with continuous work experience.
Despite not being "traditional" jobs, the applicant hasn't stayed idle, which is why she chooses to use a chronological format. In our sample, she uses a resume objective and a format that brings her experience and transferrable skills right to the forefront:
Stay-At-Home Mom Resume w/ Continuous Work Experience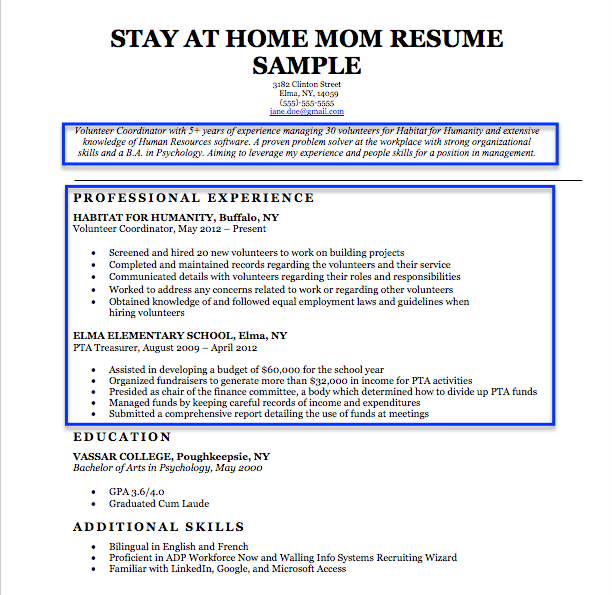 Conversely, some moms will have a gap in their work history. For those that chose this route, a combination format is the best for this because it draws focus to your skills, and less on work experience. This is a great way to have the gap in your work history out in the open without drawing too much attention to it. Note how the professional profile and skills sections are pushed to the top of the page:
Stay-At-Home Mom Resume w/ a Work Experience Gap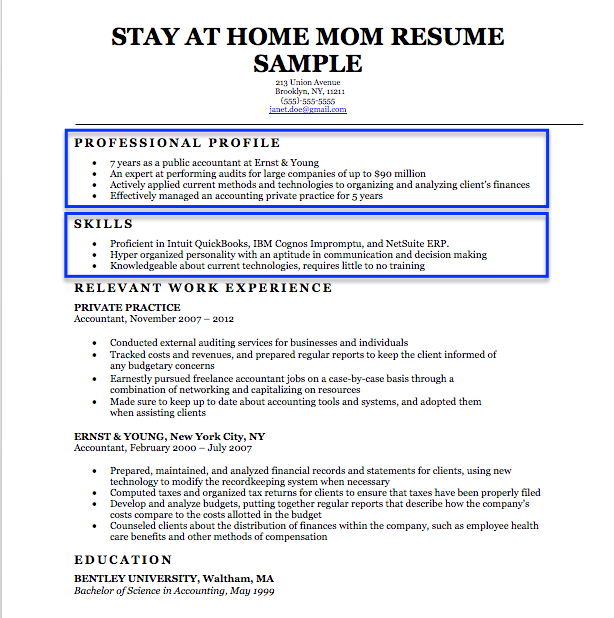 Remember, it's best to be straightforward about any gaps in your work history, and not to hide anything. Any questions about these gaps can be cleared up in the interview or your cover letter.
Depending on what your stay-at-home mom situation is, make sure you use the format that lets the employer easily see the best in you.
2. Emphasize your transferrable skills
A lot of moms get intimidated by the prospect of job searching because of how they have not been working a "normal" job since becoming a stay-at-home mom. However, they often underestimate what they have accomplished.
Despite not being a nine to five job, those activities you took part in required exercising valuable skills that are easily transferrable to a prospective job.
Highlighting these skills in terms that demonstrate their value to your soon-to-be employer is the best way to ensure that you are taken seriously during your job search. In the sample below, note how our applicant has identified skills that she used while volunteering for Habitat for Humanity and serving as the PTA Treasurer:
Stay-At-Home Mom Resume w/ Continuous Work Experience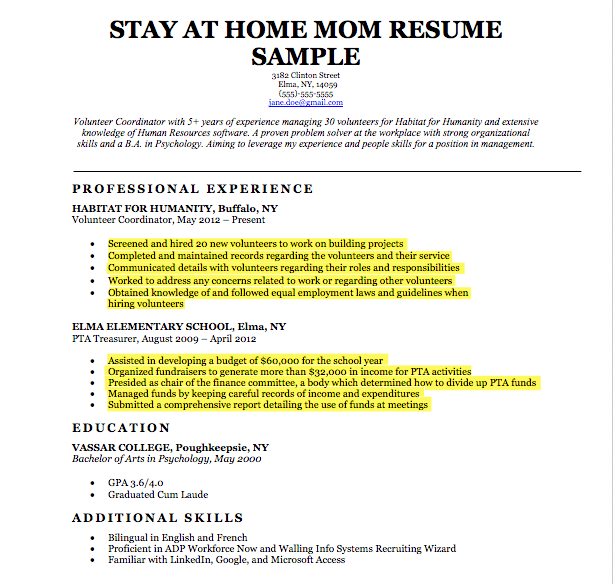 Reframing your experiences during your time as a stay-a-home mom is what's going to make you seem like a viable candidate for the position you are seeking.
3. Bolster any missing skills through other means
It is entirely possible that while you have been away from the workforce, the industry you want to work in has changed. Perhaps the industry is incorporating more work with computers or other skills that you have little or no experience with, and now employers are looking for these skills on applicant resumes.
If you prefer learning the old school way, take classes at your local community college or at other institutions to boost your skills.
If this is the case, don't panic! There are now alternatives to acquiring these skills than through work experience or going for another degree: online courses or certificate programs.
For example, want to learn coding from the comfort of your home? Try these websites:
Want to become fluent in a foreign language before tackling the job market? Here are some options to get you there:
However, if you prefer learning the old school way, take classes at your local community college or at other institutions. You could then add the fact that you took these classes and the skills you learned from them to your resume.
You can look for offline courses through these sites:
Once you have gained these new skills, make sure you know how to phrase them in a way that showcases how these skills would be useful for the job your are applying for.
Are you ready to put together your resume yet? You can save some time formatting by using our free resume template packs. If you're in a rush and want to create one quickly, we have a resume generator that can build yours in mere minutes.