Beginner Acting Resume Sample
Starting a career in acting can be difficult, especially if you don't have any "close" friends in the industry to help you out. Still, it is important to have a targeted resume ready for castings and auditions so you'll be prepared no matter what situation you find yourself in. 
1) The information on your beginner acting resume will be general for the most part, however there are a few sections where you will want to customize the information depending on the gig you are trying to land. The things that can be changed handily depending on the role being auditioned for include your address and your personal information.
2) The address can be changed to match the location of the production studio or filming location. For example, if you're staying out in New York with your cousin, use your cousins' address on your resume so you appear "local". Be careful though not to out-right lie, if you have no connection in New York and the company calls you for an audition the next day, can you book a plane ticket and make it there in time?
3) Finally, you can change your personal information depending on the role. If you are seeking the lead in the Thor 3 movie and have been hitting the gym and gaining muscle, include that in your personal information section. Conversely, if seeking the lead in a prison camp drama, drastically reducing your weight and stating so will make you more easily cast.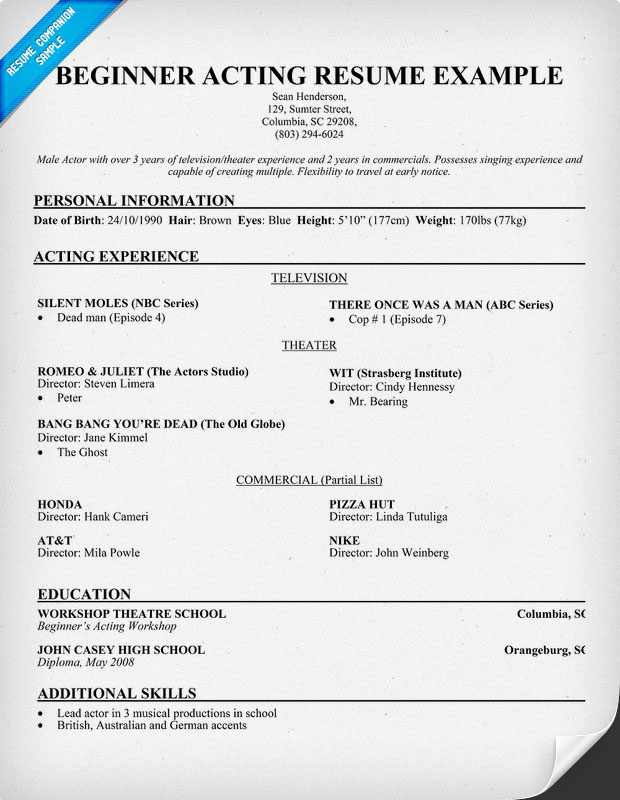 BEGINNER ACTING RESUME TEMPLATE
Sean Henderson,129, Sumter Street, Columbia, SC 29208
(803) 294-6024
Male Actor with over 3 years of television/theater experience and 2 years in commercials. Possesses singing experience and capable of creating multiple. Flexibility to travel at early notice.
PERSONAL INFORMATION
Date of Birth: 24/10/1990 Hair: Brown Eyes: Blue Height: 5'10" (177cm) Weight: 170lbs (77kg)
ACTING EXPERIENCE
TELEVISION
SILENT MOLES (NBC Series)
THERE ONCE WAS A MAN (ABC Series)
ROMEO & JULIET (The Actors Studio)
Director: Steven Limera
BANG BANG YOU'RE DEAD (The Old Globe)
Director: Jane Kimmel
WIT (Strasberg Institute)
Director: Cindy Hennessy
COMMERCIAL (Partial List)
HONDA
Director: Hank Cameri
AT&T
Director: Mila Powle
PIZZA HUT
Director: Linda Tutuliga
NIKE
Director: John Weinberg
EDUCATION
WORKSHOP THEATRE SCHOOL Columbia, SC
Beginner's Acting Workshop
JOHN CASEY HIGH SCHOOL Orangeburg, SC
Diploma, May 2008
ADDITIONAL SKILLS
Lead actor in 3 musical productions in school
British, Australian and German accents
Got the skills? Know how to write them down properly? Learn how to write your additional skills section.
comments powered by

Disqus