Read the following out loud: "Six, five, four, three, two, one, zero." In the time it takes to count down from six, a hiring manager has (on average) already judged an applicant's worthiness based on the content of their resume. What can you do to capture their attention immediately? Easy: write an effective resume profile.
Your professional profile should efficiently convey a candidate's top attributes to a hiring manager.
Also known as a professional profile, this style of introduction should efficiently convey a candidate's top attributes to a hiring manager. Creating a good one is an important step in the resume-writing process. To help you proceed, we will explain the differences between a professional profile, a career objective, and a qualifications summary. Then, we will outline four key questions you need to address during the writing process. Finally, we will give you several examples to check out so you can see it in action. Let's get to it.
Table of Contents
1. What is a resume profile?
In short, it's a brief blurb at the top of your resume that shows your achievements, experience, skills, and potential value to an employer. It can be bulleted or formatted in a small paragraph, but our experts stress that it be no longer than 500 characters in length. Short and sweet should be your objective here.
2. Professional (resume) profiles, career objectives and qualifications summaries
Professional profiles, career objectives, and qualification summaries should all be written with the same intent — to quickly and concisely show your potential worth to an employer. However, the way which each conveys this worth is slightly different.
Professional profiles take elements of both a career objective and qualification summary and combines them. They often appear as four to five bullets or in a short paragraph form, and give details about your work successes (concrete details) in addition to the abilities/personality you bring to the company (hard and soft skills). They are a popular choice for people sending out numerous resumes to different companies.
A professional profile is great addition to a LinkedIn account because it is less specific– meaning a greater range of hiring managers and employers will find the information useful.
Career Objectives are typically two to three lines of text at the beginning of your resume that function as your "sales pitch" to the hiring manager, where you explain why you're desirable and hirable. Career objectives are most useful for people targeting one specific position, because they allow the applicant to directly address the needs of the company and show how they will fit into the workforce. If this approach seems more suitable for your resume, our guide for writing a winning career objective is an excellent resource to get started.
Qualifications summaries are always bulleted and emphasize your achievements and relevant skills. They work best for someone who has a lot of experience, because they act as a highlight reel of your past accomplishments. In your summary, you want to say things like "I improved office productivity by 15% using Trello to assign tasks", instead of "I helped improve office productivity". If your accumulated work experience is composed of such compelling details, then a qualification summary is a good option and we can help you construct one. The bullets also make them Applicant Tracking System (ATS) friendly.
Numbers are your ally. A good resume doesn't need to be Shakespeare, but it does need some concrete information (especially if you've already built up substantial work experience).
3. Four key questions to address in your resume profile
Don't forget the importance of relevance. You might be a world class chef, but your ability to cook 'coq au vin' means little if you're trying to land a job as an accountant. Instead, you'd want to mention how you reduced unneeded expenditures by 20% through efficient bookkeeping, which is a much more relevant skill.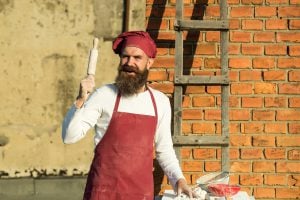 If you can answer the following four questions with solid bullets or concise sentences, your professional profile (and more importantly, your resume) will be on the path to greatness.
Question #1: How qualified are you for this position?
If you have related work experience, place that at the top and include your job title. If you don't, then use examples from your academic career (or extra-curricular activities done as a student) and show how these examples qualify you beyond a person with no experience at all. For instance, if you are applying for a job as an editor at the local newspaper, your first bullet could read something like the following,
Recent University of Nevada graduate & senior editor for the University Tribune, where I compiled three years of experience editing, writing and formatting journal articles for publication
Question #2: What's your area of expertise?
People thrive in different work situations and different roles. The second part of your profile should highlight what you're best at– which part of your past job did you most excel? Answering this question serves two functions. It 1) helps establish you as an expert in that particular area, and 2) shows the value you add to the company. An example of this could be something like,
Public relations expert fluent in social media platforms with a deep functional knowledge of WordPress CMS
Be sure your skills section reflects your resume profile – show why you're an expert in your profile, but be specific in your skills section.
Question #3: What are your skills?
You've already discussed your relevant experience and area of expertise, now it's time to lay out the arsenal of skills you possess. Hard skills and soft skills are both important (we list the top 10 most popular hard skills & soft skills here), and should both be used to paint an in-depth picture of what you can do in that industry. Example:
Strong knowledge of Microsoft Office Suite, can type 80 WPM, and bilingual in English & Mandarin Chinese
Question #4: What are your greatest (applicable) career achievements?
Your content is looking solid at this point, and now it's time for the slam dunk: throw down your most excellent example (or examples) of succeeding in a past position. Hiring managers love this tangible evidence. In their mind, these successes show your competence, creativity, and ability to adapt to a new working environment– all important attributes for a new hire. If necessary, this part can be expanded into two sentences or two bullets, but be wary of wordiness!
Led a team that successfully used social media, phone banking, and event organizing to boost newspaper readership by 60% over three years
4. Resume Profile Examples
Although professional profiles for candidates in different fields will vary, they generally include the same information (as detailed above). Check out four of our resume profile examples below to get a feel for how they can fit onto a resume.
Avoid emphasis adverbs like "really", "very" and "extremely" in your professional profile. These can be replaced with adjectives that express the same meaning. Example: "very big" can be changed into "huge" or "enormous".
Still need help writing your resume? Check out our free downloadable templates page for more ideas, or use our professional resume builder and create your own resume in minutes.