Our graphic designer resume sample and writing tips offer career-building advice for professional creatives. Follow this guide from our resume experts to create the ideal resume to boost your brand and your best chances for a job offer.
Table of Contents
1. Graphic Designer Resume Sample
Download the free Graphic Designer Resume Example above
Want to see resumes from other industries? Here's our library of resume samples.
Not your ideal resume design? Find the resume template that's perfect for you.
2. Related Cover Letter
The following image is of the matching cover letter. Click the image to enlarge.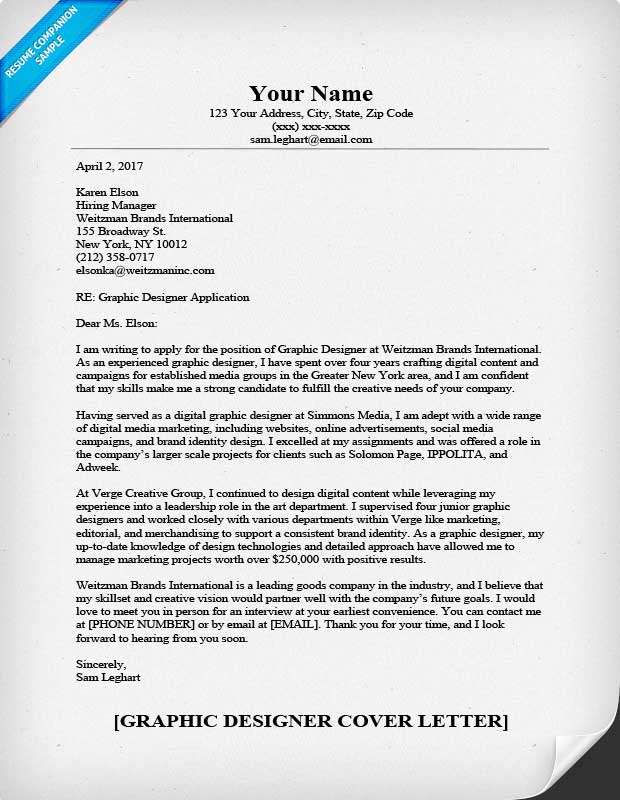 3. Graphic Designer Resume (Text Format)
City, State, Zip Code, 123 Your Address
(xxx)-xxx-xxxx | [email protected]
www.linkedin.com/in/TylerWoodall
Tyler Woodall
RESUME PROFILE
Creative designer with over four years of experience specializing in digital design and multimedia marketing. Professionally trained and competent in a wide range of design software and equipment including Adobe Creative Suite, web design, and photography. A strong track record of creating impactful visual communications that build brand identity and engage customers.
Professional Experience
VERGE CREATIVE GROUP, New York, NY| September 2015 – Present
Lead Designer
Design and execute web-ready digital content and campaigns to promote Verge brand identity and corporate communications
Partner with interdisciplinary teams within Verge including marketing, merchandising, editorial, and technology to execute campaigns and support development initiatives
Successfully spearheaded company marketing project worth over $250,000
Supervise 4 junior graphic designers and provide feedback on design briefs and collateral
Assist with art direction in photo shoots and edit images as needed using Adobe Photoshop
SIMMONS MEDIA, New York, NY | September 2013 – August 2015
Digital Graphic Designer
Concepted and designed logos, websites, infographics, social media campaigns, and online advertisements and banners to support client marketing objectives
Schedule appointments with up to 3 clients a month to establish brand identity, marketing goals, and budget and time guidelines
Collaborated with 5-person creative team of designers, photographers, and copy writers to organize and develop large-scale projects for clients including Solomon Page, IPPOLITA, and Adweek
Adhered to brand specific language and guidelines to complete projects under strict deadlines
EDUCATION
BOSTON UNIVERSITY, Boston, MA
Bachelor of Fine Arts in Graphic Design, August 2013
Additional Skills
Adobe Creative Suite (InDesign, Illustrator, Photoshop)
Working knowledge of web development (HTML, CSS, WordPress)
Microsoft Suite
Photography and photo editing
4. Three Tips for Writing a Graphic Designer Resume
Graphic designers come from all educational backgrounds and fields, but whether you're a creative freelancer or a corporate marketing designer, you'll need a strong resume to attract more job opportunities and new clients. Follow our writing tips below to write a resume that professionally communicates you and your work and impresses employers enough for an interview.
1. Prioritize readability
While design is obviously important to your resume, the most important thing is that employers are able to read it. Many designers will approach their resume as a chance to show off their design prowess, but risk cluttering the page with impractical graphics and confusing layout choices. More than the color scheme or typography, hiring managers are looking to be impressed by your qualifications and skill set. You have your portfolio to show off your style.
Ensure your name and contact information are in large font and easy to locate on the page. Include an online portfolio or website link along with your contact information for hiring managers to easily access. Beginning designers tend to use online platforms such as Behance to share their portfolios, while more established designers may build their own websites and online portfolios through WordPress or other web-hosting programs.
Resist the urge to fill every inch of your resume with text or visuals; a thoughtful use of whitespace will help break up sections of information and encourage employers to continue reading the page.
You'll notice that some sample resume templates include a graphic which the applicant uses to rate his or her proficiency at common design skills – however visually appealing, a skills graphic is best left out of your resume for a few reasons. The ratings themselves are meaningless without any additional context (what exactly does a 76% Adobe Illustrator expertise even mean?). Rating your skills also points out weak areas in your expertise, which contradicts the goal of impressing your readers. Stick to a traditional list or bullet point format to highlight the skills you do have, and simply leave out the ones you do not.
2. Flesh out your technical knowledge
Graphic designers work in a wide range of industry sectors that require varying software and equipment knowledge. As a result, the "Additional Skills" section is an important feature of the designer's resume, as employers will be checking this area along with the "Professional Experience" to see if you have the skillset to match their needs. In this sample resume, the applicant's current job is in the fashion industry, so she highlights her experience with photography:
Assist with art direction in photo shoots and edit images as needed using Adobe Photoshop
Research commonly used design software in the industry you wish to work in, and emphasize those skills in your resume. Some skills which are highly requested by most design positions include:
Adobe InDesign
Illustrator
Photoshop
Acrobat
Dreamweaver
Quark Xpress
Flash
Powerpoint
HTML, CSS, and Javascript (tools like Macow and Webflow are also helpful in designing web content for coding beginners)
3. Give your experience context
Strengthen your resume by making your descriptions contextual and results-oriented. A few ways to do this are by including specific projects, clients, or monetary and time constraints that have been a part of your previous work history. By doing so, you give the hiring manager a clearer sense of your capabilities. Here, the applicant gives some exact figures from her former work:
Successfully spearheaded company marketing project worth over $250,000
Collaborated with 5-person creative team of graphic designers, photographers, and copywriters to organize and develop large-scale projects for clients including Solomon Page, IPPOLITA, and Adweek
Employers want to see that you will make an impact at their company, so provide information about the work you have produced, the clients you have helped, and the achievements you have been awarded. Saying you designed content for clients does not cut it. What kind of content did you design, and for what purpose? Who were your clients, and did you specialize in design for a certain industry? Did you work individually, or did you collaborate with a team to conceptualize and execute the project?
These are all questions that hiring managers will ask as they consider your application, and ones you should keep in mind as you compose the "Professional Experience" section of your resume. By thoroughly following these tips, you'll be able to hand in a resume that backs up your portfolio with provable work experience and skills and guarantees your best chance at a new job in the field.
5. Graphic Design Resume Templates
Browse Through All 40 Creative Designs
Ready to get started on your own resume? Try some of our free template packs, or you can use our resume generator to create your own resume quickly.