Welcome to the Maintenance Worker Resume Sample page.
Related
1. Maintenance Worker Resume Sample (Image)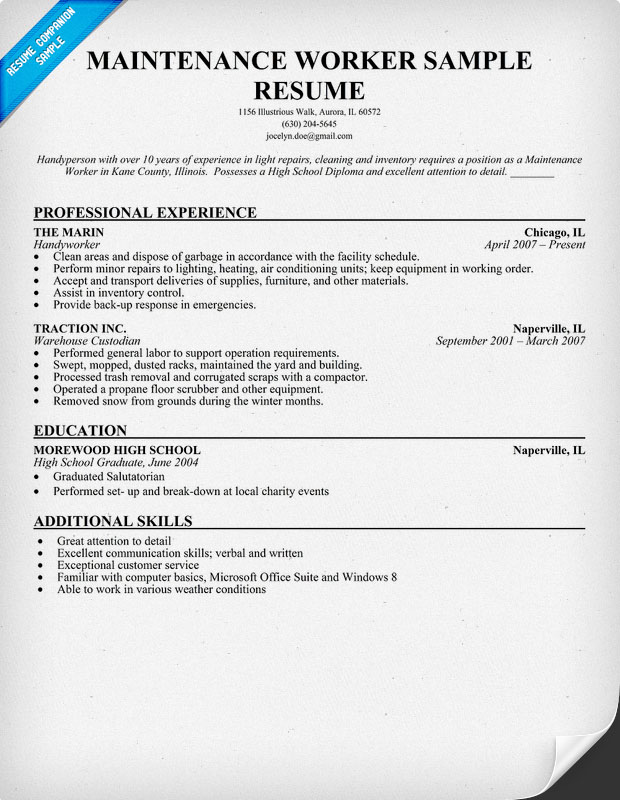 Not a fan of this template? You can choose from many other free, downloadable resume templates here.
2. Maintenance Worker Resume (Text Format)
Jocelyn Doe
1156 Illustrious Walk, Aurora, IL 60572
(630) 204-5645
Handyperson with over 10 years of experience in light repairs, cleaning and inventory requires a position as a Maintenance Worker in Kane County, Illinois. Possesses a High School Diploma and excellent attention to detail.
Learn More: How to Write a Resume
PROFESSIONAL EXPERIENCE
THE MARIN Chicago, IL
Handyworker April 2007 – Present
Clean areas and dispose of garbage in accordance with the facility schedule.
Perform minor repairs to lighting, heating, air conditioning units; keep equipment in working order.
Accept and transport deliveries of supplies, furniture, and other materials.
Assist in inventory control.
Provide back-up response in emergencies.
TRACTION INC. Naperville, IL
Warehouse Custodian September 2001 – March 2007
Performed general labor to support operation requirements.
Swept, mopped, dusted racks, maintained the yard and building.
Processed trash removal and corrugated scraps with a compactor.
Operated a propane floor scrubber and other equipment.
Removed snow from grounds during the winter months.
EDUCATION
MOREWOOD HIGH SCHOOLNaperville, IL
High School Graduate, June 2004
Graduated Salutatorian
Performed set- up and break-down at local charity events
ADDITIONAL SKILLS
Great attention to detail
Excellent communication skills; verbal and written
Exceptional customer service
Familiar with computer basics, Microsoft Office Suite and Windows 8
Able to work in various weather conditions
---
3. Facts About This Resume
In this resume, candidate Jocelyn Doe emphasizes her ability to keep her workplace in top condition. She was also responsible for electrical, HVAC, and heating maintenance duties. She also included her job role as a back-up responder in emergencies.
To improve this resume, Joceyln should have included the size of the area she maintained, the number of people she trained or managed (if at all), and the specific types of HVAC and heating unites she maintained in her "additional skills" section. Overall, everyone should follow these two resume tips to write a resume that lands more interviews.
When writing your resume, be sure to improve it by quantifying it in the manner described above.
4. More Information about Maintenance Jobs
From 2010 to 2020, the employment of general maintenance workers is expected to grow at least 11%. It is a fast growing occupation, from new buildings and other constructions. Maintenance workers' salary range from $16.50/hour to $27/hour (2013). Many maintenance workers are working in schools and governments sectors, which normally have higher pay than in other places. To ride this growing wave, ensure that you are not being passive at work.