Crafting a fine cocktail requires patience, experience, and a deft hand — and so does a resume. Our bartender resume example and industry writing tips will get you back behind the bar before you know it! If you'd like a refresher, our how to write a resume guide can get you back on the right page and ready to crank out that job application.
Or, if you've had enough of crafting one on your own, simply make a resume with our state-of-the-art resume builder.
Table of Contents
1. Bartender Resume Sample
Wrong profession? Find the right one in our free resume samples library.
Not a fan of the format? Check out our collection of winning resume templates.
2. Related Cover Letter & Resumes
Need a hand for your cover letter? Take a look at our expansive cover letter sample library for some help tips and tricks.
3. Bartender Resume (Text Format)
404 5th Ave New York, NY 10018
(212)-621-7562
Qualifications summary
15 years of bartending experience as a waiter, bartender, and bar manager
Extensive knowledge of cocktails, shooters, wine, and beer (micro & macro brews)
Helped reduce customer complaints by 20% during my first three years as bar manager
Led a team that was voted Brooklyn's "Friendliest Bar Staff" of 2013
Trained 11 bartenders over three years and managed teams of five daily
Fostered a positive bar environment for my colleagues and patrons, helping reduce employee turnover and encouraging customer loyalty
Relevant skills
Customer service
Completed SmartServe certification
Capable of calmly handling the weekend rush at a large-sized bar
Patient, friendly demeanor helps to keep the work environment positive
Mixology
Created a new 12-cocktail menu every 4 months at El Castrino's, using liquors and recipes from around the world
Active member of multiple online mixology boards
Salesmanship
7x winner of the monthly beer sales challenge at Patty's Irish Pub 'n' Restaurant
Started a "wine of the month" club, which has increased bar revenue by 5% and helped grow the number of bar regulars
Implemented upsell challenge to drive a 20% increase across all servers at the Cellar
Work History
Bar Manager, The Cellar Wine Bar
Bartender, El Castrino
Bartender, Galaxy Nightclub
Waiter, Patty's Irish Pub 'n' Restaurant
Education & Training
Bachelor of Arts, English, Boston College, Boston, MA, 2002
Bartending Certification, ABC Bartending School, NYC
Languages – English (native), Spanish (conversational)
4. Four Industry Writing Tips
1. Go with a functional format
Beer, red wine, and cocktails are all great, but they fit different occasions. The same is true with resume formats.
For most aspiring bartenders, using a functional resume format that highlights their skill-set and downplays their experience is a great way to make a positive impression on a hiring manager.
In our bartender resume sample, the applicant starts off strong with a great introduction. This is the first key to a great functional resume. Next, he dives into his customer service skills, mixology abilities, and salesmanship numbers. By placing these skills higher up on the page, the reader focuses more on them and less on the work experience section. Notice how much space the intro and skills take up on the page: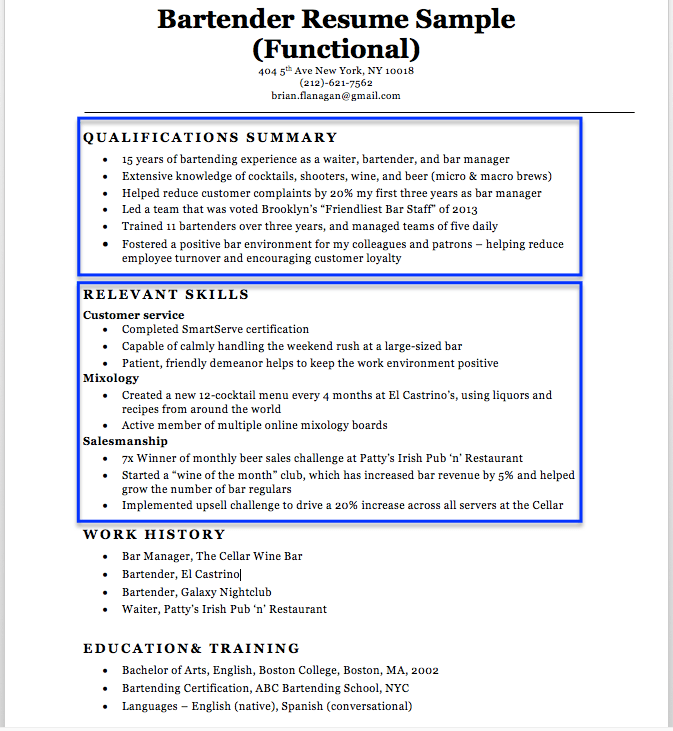 Only once you've taken a hiring manager on a tour of your awesome skills should you outline your work history and education. Skills are more relevant for a bartender, so there's no reason you can't emphasize them!
Also, if you have gaps in work experience, don't put the dates in your work history section. If they like your resume enough, they'll get you in for an interview, at which point you can explain things further.
2. Choose the perfect resume introduction
Your introduction can make or break your resume, so you better make it count! If you're looking for a job as a bartender, your introduction type should be determined by the amount of experience you have bartending.
Career objectives are great for people starting out in the industry. One of the nice things about applying for bartending work is that experience isn't absolutely necessary.
A summary of qualifications is most suitable for veteran bartenders. If you've made more cocktails (and probably consumed more) than you care to count, go this route. Writing a summary of qualifications (or "qualifications summary") requires a nice chunk of experience, and is an effective way to quickly show what you bring to the table. It should include the number of years you've bartended or worked in the service industry, your relevant work achievements, key soft skills, and some hard skills as well. Anything you've done that is quantifiable and solidifies yourself as a competent applicant is good here. If this seems best for you, learn how to write a solid qualifications summary and start your resume off stronger than a triple whiskey coke.
Career objectives are great for people starting out in the industry. One of the nice things about applying for bartending work is that experience isn't absolutely necessary. You should have some precursory knowledge of cocktails and beverages, but it's okay if you've never spent a night behind the bar!
A career objective is a three sentence statement that tells the reader,
Who you are

(including your greatest marketable attributes)

What role you're applying for

(in this case, a bartender)

Why you're an awesome fit

as the newest slinger of drinks at your target establishment
Even if you've never worked before, impress the hiring manager by writing an awesome resume objective and you will land an interview.
3. Highlight some of your top soft skills
Although every bar has its own style, clientele, and pace, there are two constants — alcohol and customers. As key cogs in the service and hospitality industries, bartenders must get along well with the people they serve (or at least do a damn good job faking it). Proving that you thrive in this area is half the battle for most bartending applications. How can you do so?
One way is to have some relevant soft skills listed throughout your resume. Check out how this was done in our example: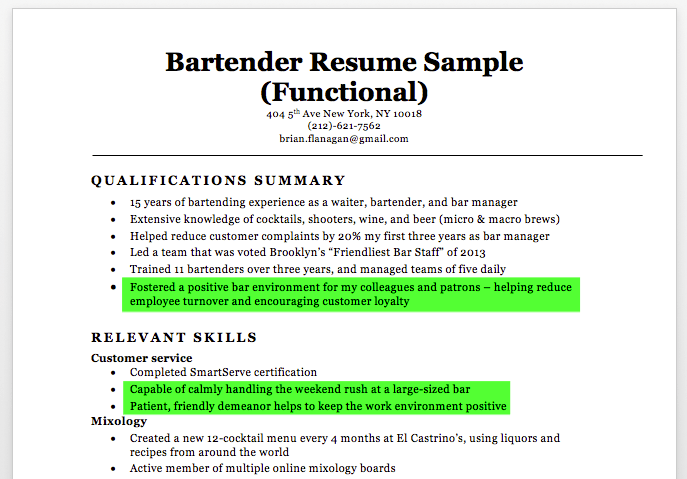 Even if you can make a martini that would make James Bond shed a manly tear, you (probably) won't land bartending work if you lack people skills. Mix some of these throughout your resume and it will make you a more appealing candidate.
Still a bit fuzzy on how to incorporate this information into your resume? Check out our ultimate resume skills section writing guide and hammer out your soft and hard skills.
4. Quantify your past work experience in the service industry
The best way to quantify anything is to use numbers, so make sure you have some included in your resume. If you have no experience in customer service, no problem! Academic projects, extra-curricular activities and volunteer work can all be used as evidence of your abilities. Ask yourself some of the following questions, and if you can answer them with numbers then incorporate them into your writing.
How many years have you worked in the service industry?
How many people have you worked with?
Have you managed people in the past?
What number of cocktails/drinks do you know how to make?
Have you affected the profit margin of your bar through excellent service/skill?
How much money are you responsible for handling each day?
Have you implemented any programs that boosted business? What was the effect? (tip: list only positive ones)
Have you won an award? How many people were you up against?
These numbers give an employer a better idea of your value, and will help your chances at getting to the interview stage. A resume with no numbers looks a bit sparse, so make sure to implement some relevant ones.
Are you ready to put together your resume yet? You can save some time formatting by using our free resume template packs. If you're in a rush and want to knock it out immediately, we have a resume generator that can build yours in mere minutes.