Welcome to the Construction Labor Resume Samples and Tips page.
Related
1. Construction Labor Resume Sample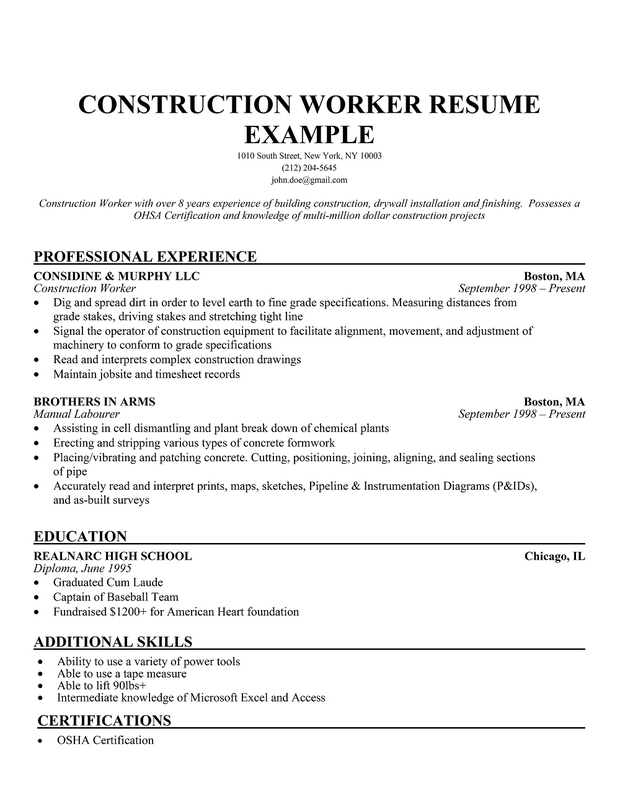 If this resume template doesn't suit you, we have several others that you can download for free.
2. Job Outlook for Construction Workers
In general, the job growth outlook for construction workers is good. According to the Bureau of Labor Statistics (BLS), in the next 10 years, employment of construction laborers is expected to grow 21%. This means that your job competition is not fierce. Entry-level candidates can expect to pick up a job quickly, and professional candidates will have a higher chance of being promoted. This, of course, is heavily dependent on the state of your local economy.
The median wage for all construction occupations is $33,840/yr. Not bad for an industry that you can join with no education! The key is to be active in your workplace and avoid being passive at all costs.
3. Quick Facts to Know About Construction Resumes
Here are some quick facts you should know about construction resumes before you start writing yours.
1. Construction resumes can be longer than three pages. The construction industry is one of the few that breaks resume rules, due to the fact that construction is a heavily skill-based and experience-based industry. Project superintendents looking to hire a new worker will want to know the small details of your past experience, so that they can understand whether you'd be a good fit.
2. You should have an online presence to get construction job offers more quickly. Online recruiters are constantly searching the web for competent construction employees. There are several job related websites on the Internet that allow you to upload your worker profile and your resume. We recommend creating a profile on Monster, Indeed, Careerbuilder, TheLadders, and most importantly, LinkedIn.
3. Your resume needs to be "keyword optimized." If you put your resume online, and it is not keyword optimized, recruiters will not be able to find your profile. Therefore, we highly recommend that you read this post about how to make your construction resume keyword rich. It gives extremely specific examples from many different construction trades – so it's likely that you'll find your own.
Next, we explain what to write in the different sections of your construction resume.
4. How to Write a Construction Resume
Construction resumes should generally follow this format, as laid out in our full resume writing guide.
1. Contact Details: First, Last Name | Permanent Address | Phone Numbers | E-Mail | LinkedIn Account
2. Career Objective: After the contact information, the career objective is the next thing that employers will read, so try to start out on the right foot with a really positive opener.
If you already have skills in construction, consider adding in the following:
Years as a professional (this will qualify you as a worthy applicant.)
Area of expertise (houses, roads, industrial, etc. you will want to focus your resume to the particular sub-industry in which you specialize)
# of people you've managed (quantifying numerically whenever possible really strengthens your resume as numbers stand out for easy identification)
Highest quality of project you've worked on (consider this your masterpiece, something a hiring manager can judge you by)
Types of machinery you can operate (these were probably listed as requirements in the job description, so make sure you get them down right away)
Complicated tools you've mastered (same as above, these are probably expected, so don't forget to include them!)
This section really shouldn't be longer than two sentences. Choose the most relevant qualifications and skills to show off in the beginning. This is where you want to "hook" your reader, so putting in irrelevant qualifications will only turn them off. Think "clear" and "concise" when writing your career objective.
This means that you should always have different versions of your resume if you are applying to different kinds of jobs. The number one mistake many job applicants make is writing just one generic resume for all types of jobs being applied to. By writing a generic resume that can be applied to anything you're essentially making a resume that doesn't fit anything perfectly, hurting your chances of getting an interview.
3. Professional Experience: For a construction resume, the professional experience section needs to list the projects that you worked on in reverse-chronological order (newest to oldest.) If you are a laborer, your trade skills should be reflected in your bullet points. You should emphasize your speed, accuracy, and the size of the project that you worked on. If you are a project manager, you should emphasize the number of people that you managed and trained, the sizes of the budgets that you worked with, whether you saved money, and if you complete projects in a timely and efficient manner. Here are some examples of bullet points that could go on a construction resume:
Performed regular load checks by measuring amp load on live circuits on open panel boards.
Took over a failing $4M residential project, solving every major problem left by the previous project managers, and led the project to completion by passing all inspections.
Trained and managed a team of 6 workers to complete a roofing project for a $2M residential project using thermoplastic materials.
Do not lie on your resume. You will be found out, and it can ruin your career.
4. Education Section: If your education has been construction related, this section will certainly be a boon. However, even if you have studied an unrelated field like English or communications, this section still demonstrates that you are an intelligent person capable of critical thinking and problem solving. So definitely include any educational experiences you've had, even if they not are directly relatable to the specific job position you are applying to at the moment.
Include this information:
School Name
School Location
Date of Graduation
Major / Program / Degree
GPA (if at or above 3.0)
Extra curricular activity is also good to include, as it proves that you're an active person and are well rounded, however keep it brief, as companies only care so much about non-related activities. Finding the right balance means maybe just one or two bullet points detailing a useful extra curricular.
5. Skills: The skills you include should be relevant to construction. Firstly, include the tools that you can use, and the construction processes that you've mastered. Depending on your trade, this section could be very large. Also include:
How much weight you can lift
Your ability to work in a team
Your communication skills, including bilingual ability
Remember that bilingual ability in Spanish and English is a huge boon for working on a construction site in the United States. It increase your flexibility, ability to communicate with others, and potentially manage – all traits that are attractive to hiring managers.
Best of luck finding the job, and be sure to read our post on the 5 traits of successful job seekers.