Welcome to the Lifeguard Resume Sample page. David Hasselhoff may be famous for his lifeguard techniques, but did he have an updated lifeguard resume? Probably not. But where "The Holf" lacks, you can excel.
Related
1. Lifeguard Resume Sample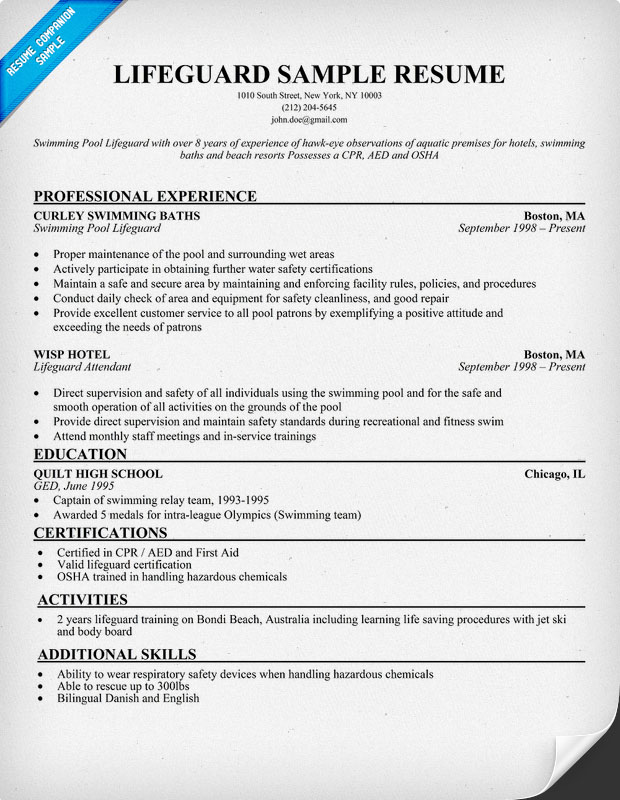 Don't like this resume template? View our complete database of downloadable resume templates.
2. Lifeguard Resume (Text Format)
John Doe
6953 Red Prairie Avenue, Mud Lick,
Utah, 84036-8838,
(435) 550-9602
Swimming Pool Lifeguard with over 8 years of experience of hawk-eye observations of aquatic premises for hotels, swimming baths and beach resorts. Possesses a CPR, AED and OSHA.
Read more here about how to write the career objective.
PROFESSIONAL EXPERIENCE
CURLEY SWIMMING BATHS Boston, MA
Swimming Pool Lifeguard September 1998 – Present
Maintain the pool and surrounding areas
Participate in obtaining several water safety certifications
Exercise a safe and secure area by enforcing rules, policies, and procedures
Conduct daily check of area and equipment for safety cleanliness, and good repair
Provide excellent customer service to all pool patrons by exemplifying a positive attitude and exceeding the needs of patrons
WISP HOTEL Boston, MA
Lifeguard Attendant September 1998 – Present
Direct supervision and safety of all individuals using the swimming pool and for the safe and smooth operation of all activities on the grounds of the pool
Provide direct supervision and maintain safety standards during recreational and fitness swim
Attend monthly staff meetings and in-service trainings
EDUCATION
QUILT HIGH SCHOOL Chicago, IL
GED, June 1995
Captain of swimming relay team, 1993-1995
Awarded 5 medals for intra-league Olympics (Swimming team)
CERTIFICATIONS
Certified in CPR, AED and First Aid
Valid lifeguard certification
OSHA trained in handling hazardous chemicals
ACTIVITIES
2 years lifeguard training on Bondi Beach, Australia including learning life saving procedures with jet ski and body board
ADDITIONAL SKILLS 
Able to rescue up to 300lbs
Bilingual Danish and English
---
3. Facts About This Resume Sample
Take a look at this lifeguard resume sample and note the certifications listed, which will be a must if seeking employment with any private company or at a public beach. Also, note the experiences listed under the education section. This is a strong resume even without a university degree because of the experiences the applicant had in high school, including being captain of a relay swim team and also competing in intra-olympics as a swimmer. Combined these make for a strong educational section.
Also, make sure to define which area of lifeguarding you have expertise in. This may range from on the beach in the tropical sun or in the chlorine engulfed surroundings of your government run swimming pool.
Either way, make your stellar lifeguard resume swim upstream past the competition.
By the way — have you been lifeguarding on and off for a long time, leaving large gaps of work experience? Here are 6 ways to eliminate work experience gaps.
4. Key Takeaways
The above resume is a solid example of what an experienced lifeguard's resume may look like. If you imitate the above sample you will undoubtedly end up with a great looking resume, but even angels have their flaws, and so here we will highlight some of what makes this resume sample great and what could still be improved.
The strengths of this resume are many, but here a just a few to take note of and emulate in your own lifeguard resume:
The job experiences listed are all completely pertinent to the job, and don't include any non-relevant experiences.
The candidate lists critically vital skills such as CPR/AED and First Aid.
The applicant included non-directly related but very valuable additional skills such as being able to rescue up to 300lbs.
Things that could be improved for this resume
Include some more numerical quantification similar to how they wrote out "300 lbs" in the additional skills section.