If you are hitting the pavement in search of a new job, you might realize how similar it is to trying to sell a car. You want to put your best features forward, but instead of discussing the mileage or the horsepower, you have your own personal skills to help attract investment from employers.
Your skill set is one of your biggest selling points on your resume for two reasons:
Obtaining a skill that the employer needs shows perseverance and a good work ethic
Proving that this skill benefitted your last company shows that you can be a team player and a valuable asset.
Not sure what to put in the resume skills section? Read our guide to learn how to include general, industry-specific, and computer skills in your resume.
Table of Contents
What is a Skills Section?
The skills section, often referred to as "Additional Skills," is the place in your resume where you list all of the useful abilities that can't be easily seen in the bullet points of your Work History / Professional Experience section.
Notice the Additional Skills section at the bottom of this resume.
When potential employers read through your resume, the employer will ask themselves these questions about the skills you list.
Common questions about your skills:
How did you learn the skill?
What benefits did the skill bring to your company?
What examples prove your proficiency of the skill?
Your skills section provides a window into how much capability you can bring to the company. It's important to not only be honest, but to go even further and prove you've used them competently before. You should only:
Include skills that you have experience with
Have concrete examples you can refer to
This is not the place to show what skills you hope to have or are currently learning. For example, if you know a few techniques on Photoshop, but you don't actually have any graphics to show, then it's not really worth mentioning. If an employer sees a skill listed on your resume, they will expect you to be able to deliver on that promise.
Before you jump into writing down all the amazing talents you have, let's learn a bit more about what skills employers typically look for on a resume and see if you can include any in your skills section.
The Most Popular Skills for a Resume
There are two types of skills to put on a resume: hard skills and soft skills.
Hard Skills
Hard skills are the actual qualifications an individual needs for the job. They are teachable abilities or skills that you can easily quantify.
Top 1o Most Popular Hard Skills:
Graphic Design
Event Planning
SEO/SEM Marketing
Data Analysis
Copywriting
Computer Languages
Foreign Languages
Accounting
Mathematics
Bookkeeping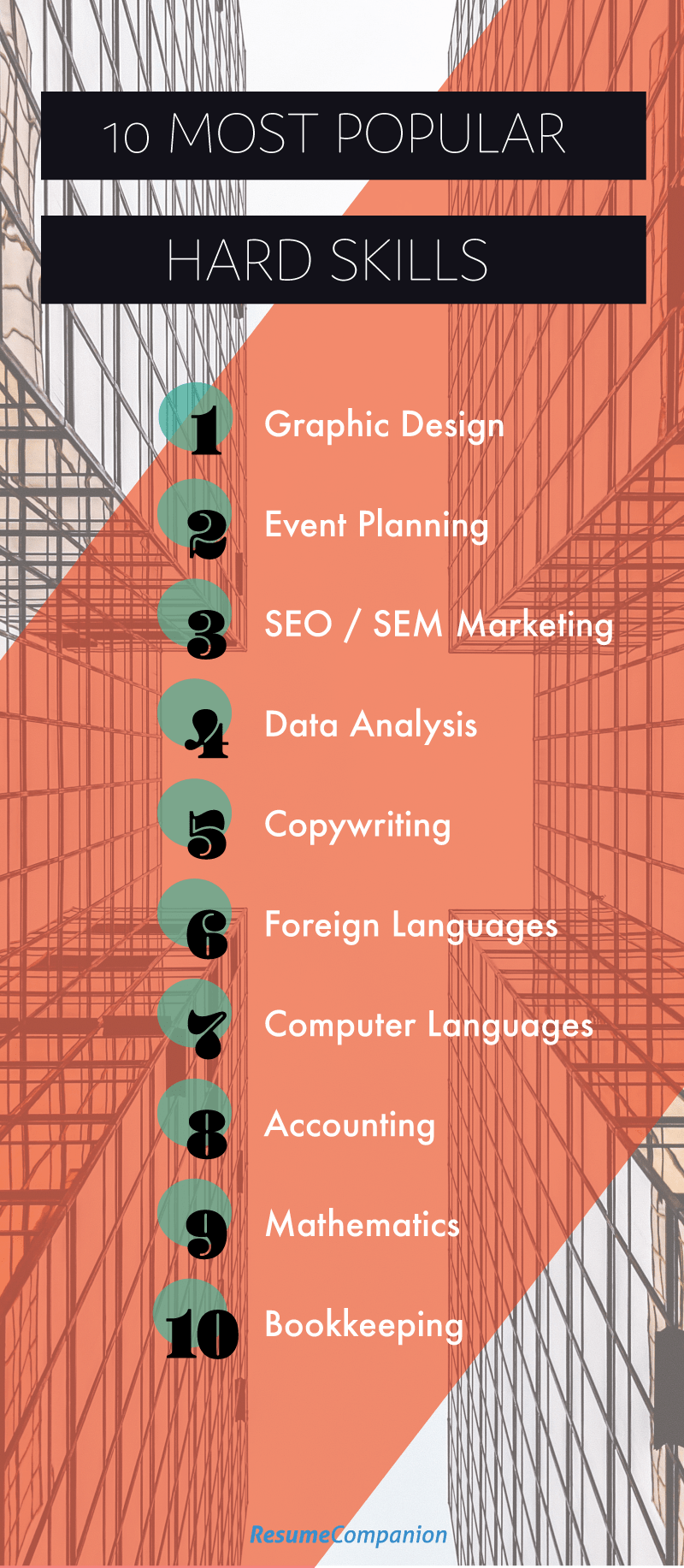 Soft Skills
Soft skills, on the other hand, are not easy to quantify. They are the interpersonal skills that make you an appealing person to work with and show how you will engage and interact with your work environment including your boss and co-workers.
Top 10 Most Popular Soft Skills:
Communication
Organization
Teamwork
Always Punctual
Critical Thinking
Social Skills
Creativity
Interpersonal Skills
Adaptability
Friendly Personality
What Skills Does the Job Require?
Sure, it's great to have a long list of skills for an employer to gawk at, but the most important part of the skills section is not showing how great you are, but, more specifically, how perfect you are for the particular position. You will do this by having a skill set that aligns with the job requirements. If you can do that, an employer will definitely notice.
If you do not have every skill in the job description, it is not the end of the road for you.
First, read through the job description and take note of all the skills that are necessary. There is usually a list of both hard and soft skills, that an ideal candidate should possess. However, this does not mean you need to possess every single skill listed in the description. If you happen to have all the skills, then good for you! If there are some skills that you need to improve on or gain entirely, don't worry. There are ways of setting up your skills section that can still show you in the best light.
Match Your Skills to the Position
Now that you have reviewed some of the most popular skills employers look for on a resume, it's time to tailor your skills to the position you want. As you go through the list of skills above, make a separate list with the skills that you already possess. Try and order your personal list of skills by the level of proficiency and separated into hard and soft skills. Got it?
The closer your list of skills matches the skills needed for the job, the better your chances are for getting the job.
Once you have finished your personal list of skills, you can compare your list with the list on the job description. Here are a few questions to answer when you are comparing the two lists:
How many skills do you have in common with the job description?
Do you have any of the most essential skills the job requires?
Are there any skills you possess that are necessary for this job?
Are there any skills that you need to possess to get this job?
By answering these questions, you can gauge where you are in terms of hireability. Obviously, the closer your list of skills matches the skills needed for the job, the better your chances are for getting the job. However, if you do not have every skill in the job description, it is not the end of the road for you.
If you lack some of the skills in the job description, it is very important for you to understand what to do next. In order for potential employers to consider you for the position, make yourself look as qualified as possible, regardless of your setbacks. This can be done by crafting your skills section to best reflect what the job requires.
Give Concrete Examples
Employers are looking for specific examples that prove your competency, and one way to do this is to replace nonspecific adjectives with hard examples. Basically, be specific every chance you can. Even if you are discussing things like software, hardware, and other tools you are skilled with, be sure you list each one out.
---
Don't Say: Excellent computer skills.
Do Say: Proficient with Microsoft Word, Excel, and Powerpoint.
Don't Say: Talented graphic artist.
Do Say: Experienced graphic artist well-versed in Adobe Photoshop, Illustrator, and Sketch.
---
Doing this will greatly help make your resume more Applicant Tracking Software friendly. An ATS is a resume reading robot that many large and medium sized firms use to automate, streamline, and manage the hiring process. An ATS will count the number of role-related keywords you have on your resume, and determine if you are a match based of what the software finds. If you happen to forget to add these specific skill keywords, you're hurting your chances.
Relevancy is Key
A hiring manager will be looking for skills that are the most relevant to the job at hand. This is why it's important to tailor your resume appropriately. They do not care if you won the spelling bee three years in a row. All the skills you put on your resume should, in some way, relate to the position.
---
A job seeker should not do this:
Take my work home too often and get in trouble with the spouse.
Instead he or she should do this:
Work diligently until the end of every project.
---
What if You Don't Have the Required Skill?
We have discussed how to choose the skills you want to include in your resume, but what if you don't have any experience with some of the essential skills in the job description?
If you have read through the job description, and you have realized you don't have some of the core competencies in order to do the job, this is the moment where you really consider if you are capable of doing the job.
For example, if the position you are applying for is for content marketing, but you have never written online content, perhaps you need to find other jobs that suit your skills. You can still use the advice from above and explain to employers where you need to grow, but you need to make sure this area of growth would be possible alongside performing the core components of the job position and are not core components themselves.
If you are weak in an important area of the job or lack an essential skills, dig into your past work experience and see if you can find some examples that can at least demonstrate that you would be capable of performing the skill you lack or learn it very quickly. For example, maybe you never created online content, but you have experience writing for a print advertising agency. At least you have some writing experience on a different medium that can help illustrate your talents.
Deciding where to put your skills section in your resume depends entirely on which kind of job you are applying for.
Formatting Your Resume: Where Should You Place the Skills Section?
There are a few different types of skill sections and formatting options that you should consider when crafting your resume.
The placement of your skills section is also a very important thing to consider. You've just spent all this time creating and optimizing your skill section; it would be shame if this list was not put into the best place to showcase it. So where's the best place to put your skills section on your resume?
There is no single answer to this question because where you put your skills on your resume depends entirely on what industry, company, and position you are applying for.
Types of Skills Sections
There are a few different types of skill sections and formatting options that you should consider when crafting your resume. Read through each of these options to see which one works the best for the position you are applying for.
Option 1: Additional Skills
It is most common for resume samples to have the "Additional Skills" section toward the bottom of a resume. This would be appropriate for jobs that value your past experience most. If that is the case, the hiring manager is going to put the most weight on your Work Experience. By leading with your past experience, it will be easier for the hiring manager to gauge your competency for the position. You don't want them to get confused when they are looking for the most essential information they need.
Here is an example of a resume that leads with Work Experience:
Option 2: Key Skills
A Key Skills section, on the other hand, is listed at the top of a resume. This is the best option if you want to showcase your skills and lead with your strengths. For example, if you believe your skill set is the best way for you to get hired for a position, perhaps because your work experience might be lacking, it would be smart to have a Key Skills sections come first.
Even if you do have the appropriate amount of work experience, listing your skills at the top of your resume is a clever way of showing the employee your unique capabilities and strengths as an individual.
Option 3: Technical / Computer Skills
If you are applying for a position that requires a very specific set of skills like a technical or engineering job, then the employer will likely want to see that you have the proper hard skills first. In this instance, you would want to put your list of skills toward the top of your resume underneath the resume objective or the resume summary statement.
---
Common jobs where it's best to have a Technical Skills section instead of an Additional Skills section:
Engineering
Graphic Design
Information Technology
Manufacturing
Technical Writing
---
Here is a good example of a resume for technical jobs:
The most important thing to take away from this is that selecting and understanding the appropriate skills for the position is the most important thing. Regardless of where you include your skills section on your resume, you can be assured that the hiring manager is going to find it and definitely going to ask about it. It's best to be prepared!
Remember to Organize Your Bullets
If your skills section is longer than 2 or 3 bullet points, you want to consider the order in which you list the skills. A hiring manager will take notice of nicely organized bullet points and, on the same coin, information that seems out of place is also very noticeable.
One way to keep your bullets organized is to group your computer skills together, your communication skills together, and your language skills together. Doing this will help the hiring manager process your resume efficiently.
---
These skills are scattered:
Confident and charismatic public speaker

Experienced graphic designer skilled with Adobe Photoshop and Illustrator

Multilingual – Fluent in Spanish, Portuguese, and English

Proficient with Microsoft Word, Excel, and Powerpoint
These skills are organized:
Experienced graphic designer skilled with Adobe Photoshop and Illustrator

Proficient with Microsoft Word, Excel, and Powerpoint

Confident and charismatic public speaker

Multilingual – Fluent in Spanish, Portuguese, and English
---